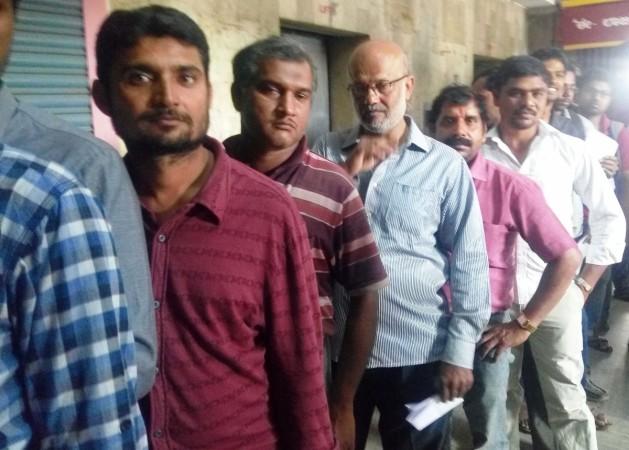 Long queues were witnessed in banks across the country on Thursday as the financial institutions opened for the first time since Prime Minister Narendra Modi scrapped Rs 500 and Rs 1,000 notes as legal tender on Tuesday evening. While most waited patiently, some got restless and made the task of bank officials a little more difficult on a day that had begun really early for them.
Banks have been instructed by the Reserve Bank of India (RBI) to stay open for longer durations and even on weekends, as well as give priority to people exchanging currency notes, besides other such steps. The step has been welcomed by the common man, who now have till December 30 to exchange all their old Rs 500 and Rs 1,000 currency notes for the newer Rs 500 and Rs 2,000 notes.
Also read: Here are 19 features of the new Rs 2,000 currency notes that the RBI is releasing
Uphill task for banks as some hurry
Speaking to International Business Times, India, on condition of anonymity, a bank official at one of the branches in Bengaluru where the currency notes were being exchanged said on Thursday: "We have been working all through the night, and everyone was present in the bank right after 6 am. We started functioning at 10 am and will continue till 7 pm."
He also outlined the problems the bank branch and its employees have had to face when it comes to exchanging the currency notes. He pointed out that not everyone is equally patient, and that some are so restless that they start shouting and threatening to complain to the RBI over a wait of 10-15 minutes.
"Many people do not seem to understand that they can deposit their money in cash-deposit machines right from 12:01 am on Friday, and get cash from ATMs from the same time. But they cannot seem to wait, and must have their currency notes exchanged today itself," he said.
Standing in line
Even as queues started turning serpentine in banks right from the morning, there seemed to be a good deal of knowledge among people as to how the process pans out. This was evident from the fact that although the banks have been instructed to ask to only see photo IDs of people getting their currency notes exchanged, some people chose to actually bring photocopies of these IDs along, in case they needed to submit them.
And barring a few irate people, most were only too happy to queue up peacefully outside banks. Students Dhanush V, Vinod Kumar K and Mounesh J were three such people, who had had their forms ready with them, and in eager anticipation to get their hands on some new Rs 2,000 currency notes.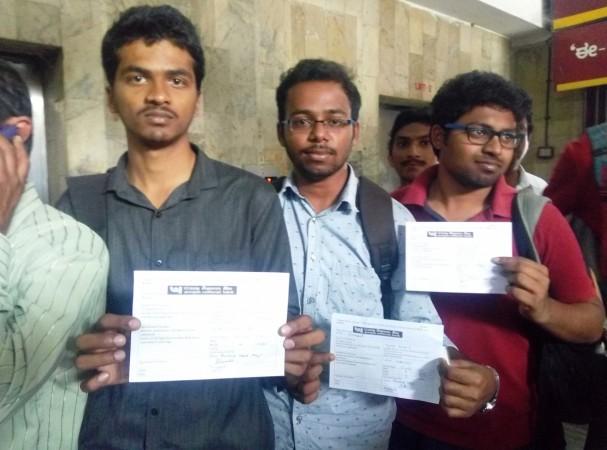 Smooth process
As for the exchange process itself, it seemed to be going quite smoothly. Banks were seen letting in a small group of people at a time, and as they finished their work and exited the premises with crisp currency notes, the next batch of people would be let in.
Private sector employee Venkatesh confirmed as much to IBTimes India after coming out with his currency note. "The exchange happened smoothly, and now I am on my way back to work," he said.