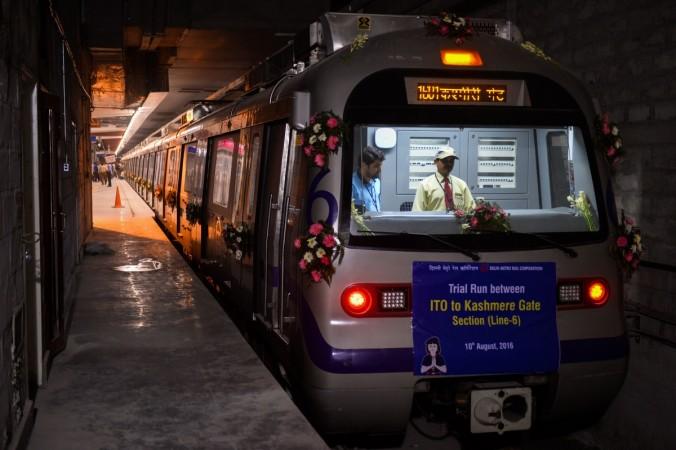 Services on the Yellow Line of Delhi Metro were disrupted on Friday morning as a peacock appeared on the tracks at Model Town station.
The bird appeared at 9.45 am and did not move from the spot. Anxious commuters deboarded the train fearing something wrong, but were shocked and excited to see India's national bird greet them instead.
Some excited people even took pictures of the bird as a huge crowd gathered on the platform. The bird, unruffled by the attention continued to sit on the track.
Eventually, Wildlife SOS officials were called to the scene, who managed to capture the bird at around 10:18 am. "Services were resumed after 30 minutes," said Anuj Dayal, the DMRC Executive Director for Corporate Communications.
The Delhi Metro system is currently one of the largest in India after Prime Minister Narendra Modi recently inaugurated a stretch connecting the capital with Haryana. The system is no stranger to disruption, with commuters having to face the brunt of political turmoil in the capital. Earlier this month, services in and around the Delhi Secretariat were disrupted by the Aam Aadmi Party's protest to the Prime Minister's residence over Lt. Governor Anil Baijal's inaction despite Kejriwal's sit-in protest at the Raj Niwas.
DMRC employees have been engaged in a stand-off with the authorities over salary hikes over the last few weeks. Employees are currently on a sit-in protest at several stations and have threatened to shut down the metro on Saturday if their demands are not met. Their primary demands are for a revision of salaries and pay-grades and payment of arrears as well as the right to form a union.
Employees are set to meet officials on Friday as they attempt to reach a consensus before Saturday.
[With inputs from IANS]