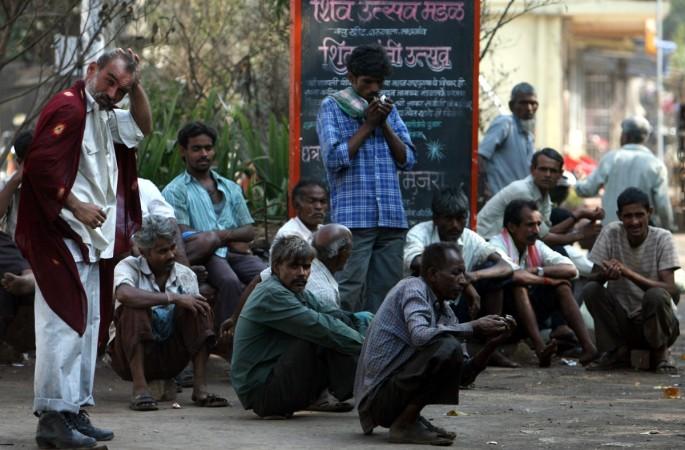 Hindi-speaking migrants continued to flee Gujarat on Tuesday after attacks on them in several parts of the state, even as the ruling BJP and Opposition Congress engaged in the blame game.
Police, meanwhile, intensified patrolling in areas near industrial estates and places where migrant workers stay.
Since the rape of a 14-month-old girl in Sabarkantha district on September 28 and the arrest of a laborer hailing from Bihar for the crime, six districts, most of them in north Gujarat, have seen sporadic incidents of violence against Hindi-speaking people.
In a series of tweets, Chief Minister Vijay Rupani asked whether Congress president Rahul Gandhi will take action against his party's "own members who incited violence against the migrants in Gujarat".
The BJP has been blaming Congress MLA Alpesh Thakor and his outfit Gujarat Kshatriya-Thakor Sena for the outbreak of violence against Hindi-speaking people in the state. "Congress first incites violence against migrants. Congress President tweets to condemn this violence. Does the Congress President not have any shame?" Rupani said in a tweet.
"If the Congress President is against the violence in Gujarat, he needs to take action against its own members who incited violence against the migrants in Gujarat. Tweeting is not the solution, taking action is! But will he act?" he further tweeted.
Rupani said his government is "working hard to ensure trust and confidence among all citizens that they are safe and secure in Gujarat". "However, Congress President needs to be ashamed of tweeting this when his own party is inciting violence against migrants," he further said on the micro-blogging site.
Gandhi on Monday said that targeting migrant workers in Gujarat is "completely wrong" and he is totally against it. Taking to Twitter, he had said the root cause of violence is the closure of factories and unemployment in Gujarat due to which both the system and the economy are reeling.
Thakor also said Tuesday that targeting of migrants is wrong and he is "totally against it" while trying to refute the BJP's allegations against his outfit. "Most of the attackers are from Thakor community. But this allegation is an effort to suppress the popularity that I have gained with my outfit in 16 states. I am being defamed. Not a single case has been filed against either me or my people. Our truth will win," he told reporters here.
After the rape of the 14-month-old Thakor community girl allegedly by a Bihari migrant worker in Sabarkantha, Thakor had blamed a "non-Gujarati" for the rape in the public. A video in which Thakor is purportedly seen making a speech against migrant workers has gone viral and is considered to be responsible for the violence against the Hindi-speaking population.
"These people who have come from outside, they commit crime, they beat up common villagers and they go back to their state. Such people have jobs here in Maruti and other companies but our people do not have jobs here," Thakor said while addressing a gathering in Bhaucharji town of Mehsana district of North Gujarat.
"Even if you consider they are Indians and give them 20 per cent jobs... but Gujaratis are being thrown out of such factories, Gujaratis are dying due to starvation," he said in the video probably shot by a mobile phone. Meanwhile, Hindi-speaking factory workers continued to flee the state by taking trains and buses, which were running jam-packed.
There were also reports of bus fares being raised in view of the increased demand coming in from some places. Some people said they were scared and alleged that they were threatened to flee or face consequences.
"Some people came to our area last night and asked me to leave the place immediately and go back to my home state or they will thrash me," a migrant worker told reporters at the Ahmedabad railway station. Shyam Singh Thakur, president of the Uttar Bhartiya Vikas Parishad, an outfit of north Indians in Gujarat, said the situation has become normal but people who had decided earlier to leave the state continue to board buses and trains.
He said more than 60,000 Hindi-speaking migrant laborers have fled the state so far. "The environment of threat and fear has ended and peace has returned. People are no longer being threatened and they are resuming work in factories," Thakur said.
"More than 60,000 people have left Gujarat, and those who are leaving now are only those who had decided earlier to go back home. There is no more compulsion and threat to them to leave the state," he said. Meanwhile, police continued to patrol industrial areas of the affected districts to instill confidence among people.
In Vadodara, hundreds of police personnel carried out a flag march in industrial areas having several big and small factories where more than 25,000 migrants worked. "Additional police force has been deployed in industrial areas for the security of Hindi-speaking migrants.No untoward incident has been reported in these areas," Vadodara Police Commissioner Anupam Singh Gehlot said.
Earlier, over 450 people were arrested and 56 FIRs registered after sporadic incidents of violence were reported from Mehsana, Sabarkantha, Ahmedabad, Gandhinagar and other areas in north Gujarat.