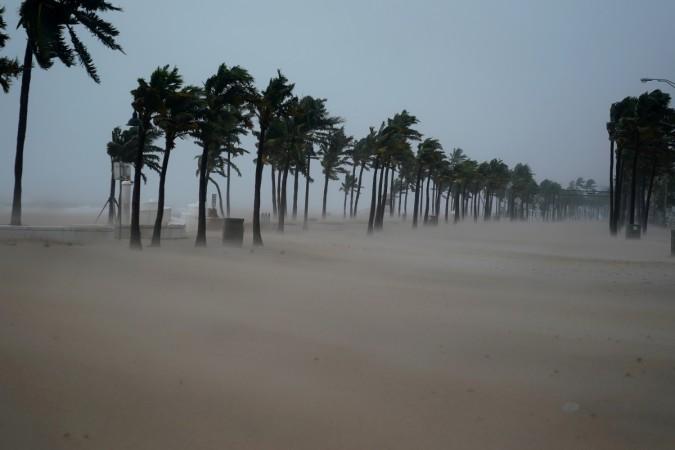 The US state of Florida, often called the Sunshine State, is now gearing up for a hurricane that is likely to make a landfall this week. Hurricane Michael, earlier categorised as a tropical storm on the Gulf Coast, has now been upgraded to a Category 1 hurricane.
Michael is expected to become a full-blown hurricane on the night of Tuesday or Wednesday and could become a category 3 storm when it makes a landfall at Florida Panhandle. Weather experts believe that Michael could bring heavy rainfall causing flash floods and strong winds with sustained speed of about 120 kilometres per hour.
In preparation, residents of the region have been urged to remain alert and a state of emergency has also been declared in 35 counties. About 500 Florida National Guard personnel have been activated and another 5,000 are said to be on standby. Bridge tolls have also been lifted ahead of Michael's landfall.
"Hurricane Michael is forecast to be the most destructive storm to hit the Florida Panhandle in decades," abc News quoted Florida Governor Rick Scott as saying.
"The Panhandle and Big Bend could see winds in excess of 100 mph. Remember, this storm could grow stronger and be a Category 3 hitting our state. This storm will be life-threatening and extremely dangerous," he added.
Mandatory Evacuations ordered
Officials have ordered mandatory evacuations along Florida's Panhandle and a few areas of the Panama City. Other evacuated areas include the Franklin County, Walton County, Bay County, Wakulla County, Santa Rosa County and Okaloosa County to name a few.
"If you decide to stay in your home and a tree falls on your house or the storm surge catches you and you're now calling for help, there's no one that can respond to help you," Escambia County Sheriff David Morgan said during a news conference. "That's the criticality of following directions."
The Florida Supreme Court has also announced that it would remain closed until Thursday, October 11, and school and other educational institutions will also shut down until the storm passes.
Meanwhile, residents of the region have been stocking up on essentials and queued up at stores to buy food, water, medicines and batteries among things. Several people were also seen filling up their vehicles with gas.
"If any Florida family doesn't have an emergency preparedness plan, now is the time to act," Scott went on to add. "Floridians also know just how quickly the path of a storm can change and that's why we all must be vigilant and get prepared today. I encourage every Floridian to visit www.FloridaDisaster.org."
At least 13 killed in Central America
Meanwhile, Michael is already wreaking havoc in Central America with heavy rains triggering flash floods and landslides. At least 13 people have been reported dead in Honduras, Nicaragua and El Salvador and hundreds have been forced to leave their homes behind and move to shelters.
Officials have said that six people died in Honduras, four in Nicaragua and three in El Salvador, reported the Associated Press, and the search for a missing boy swept away by a river in Guatemala is also ongoing.
The Permanent Commission of Contingencies also said that over 250 houses have been damaged and nearly 6,000 people have been affected by the hurricane.