While former White House adviser Omarosa Manigault Newman has pretty much ripped US President Donald Trump and his policies apart in her book "Unhinged: An Insider's Account of the Trump White House," her love for first lady Melania Trump is evident.
The book went on sale on Tuesday, August 14, and speaks quite fondly of Melania and how she has stood by her husband through all the issues and controversies.
Newman called Melania and loving and dedicated wife "who would gaze at him with adoration," but compared the president to a "dog off the leash" when he attended events without his wife, reported Business Insider. The comments were in the context of the number of instances in which women have spoken of harassment by the president.
Many women came forward to speak of Trump's behaviour in the past, but the former White House adviser added that "it would be safe to assume that there were many others." Trump's alleged relationship with adult star Stormy Daniels has also made headlines, but Newman said that she wasn't sure if Melania knew of any of these affairs.
In her book, Newman went on to reveal that Melania made a wonderful mother to son Barron and has always been very hands-on with him instead of completely relying on a nanny. She also said that the first lady was a very doting mother, a side "the world doesn't get to see."
The first lady herself has spoken about this in a 2015 interview with People, in which she said that she is always there for Barron, taking him to school, preparing his meals and picking him up.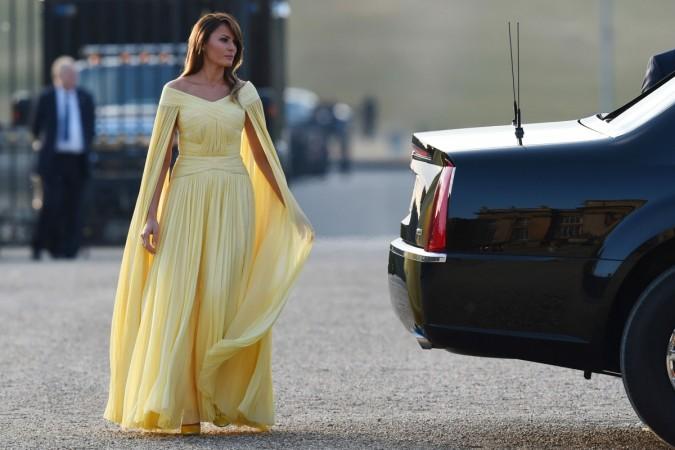 Speaking of Melania's fashion choices, Newman said that the first lady is a bold dresser and often even takes digs at the president through her attire.
Melania cannot wait to divorce Trump?
While Newman lauded Melania for the person she is, the former adviser also spoke about the relationship of Melania and the POTUS. Calling the marriage "strained," Newman says that in her opinion, the first lady cannot wait to get a divorce.
"The first lady is counting every minute until he is out of office and she can divorce him," the book claims, according to People.
Newman also claims that one of the reasons Melania is still with Trump is her fear that the POTUS may "invalidate" her visa if she leaves him.
"Since Donald is fully aware of however she acquired her permanent citizenship, he could, if there were anything fishy around it, expose the methods and somehow invalidate it," Newman writes. "He is a vindictive man, and I would not put anything past him.
"If Melania were to try to pull the ultimate humiliation and leave him while he's in office, he would find a way to punish her. This is a man who has said he could pardon himself from the Mueller investigation. Why not pardon himself over an alleged visa payoff?"
While the first lady hasn't really said anything about Newman's book or her opinions, Melania's spokesperson told the Newsweek that FLOTUS has "rarely, if ever, interacted with Omarosa."
"It's disappointing to her that she is lashing out and retaliating in such a self-serving way, especially after all the opportunities given to her by the president," Grisham added.
Sarah Huckabee Sanders, the White House press secretary, also released a statement that the book was "riddled with lies and false accusations."