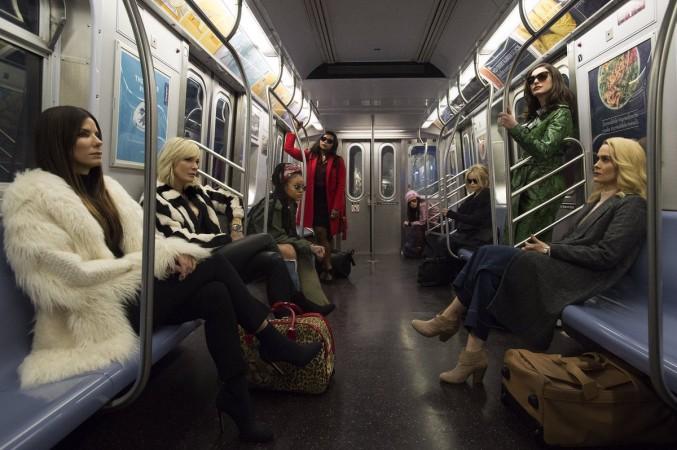 The first bunch of critics reviews of Ocean's 8 has just arrived. And, most of them do not seem to like the direction of Gary Ross as they described the movie as a "flabby final chapter". A lot of reviewers mentioned that the absence of the producer Stephen Soderbergh in a directorial role can be felt in the entire movie.
The woman-centric movie has stellar cast — Sandra Bullock, Cate Blanchett, Mindy Kaling, Sarah Paulson, Awkwafina, Helena Bonham Carter, Rihanna and Anne Hathaway. It is set to release in theatres on June 8.
The official synopsis of the movie —
"Five years, eight months, 12 days…and counting. That's how long Debbie Ocean (Sandra Bullock)—just released from prison—has been concocting the greatest heist of her storied career. She knows what it's going to take—a team of the best in their field, starting with her former partner-in-crime Lou (Cate Blanchett). Together, they recruit a crew of specialists: jeweler Amita (Kaling); street con Constance (Awkwafina); expert fence Tammy (Paulson); hacker Nine Ball (Rihanna); and fashion designer Rose Weil (Bonham Carter). The target is $150 million in diamonds—diamonds that will adorn the neck of world-famous actress Daphne Kluger (Hathaway), who will be center stage at the event of the year, the Met Gala. Their plan appears rock solid, but it will need to be flawless if the team is to get in and get away—all in plain sight."
Here's what the critics have to say about the movie —
The Hollywood Reporter
"Ocean's 8 tries to inject that verve with an eclectic mix of music to supplement Daniel Pemberton's score, from Charles Aznavour to Amy Winehouse, James Last to The Notorious B.I.G. But it lacks punch, even if the complicated plotting is sound enough, the gadgetry impressive and the visual trappings sleek. You just start to feel starved for a movie with conflict, suspense and a little heart, rather than a repackaged version of a formula already flogged to death."
The New York Times
"At some point between the first and second hours, though, you may find yourself wishing that Mr. Soderbergh — a producer here — had also directed "Ocean's 8." Its cast aside, the movie sounds and narratively unwinds like the previous installments, but without the same easy snap or visual allure. As a director, Mr. Soderbergh doesn't throw the camera around, but one of pleasures of his movies is a commitment to beauty as a cinematic end. Here, the actresses carry that burden."
The Guardian
"The lifeless direction, the unrefined script, the underwhelming cameos, the distinct lack of fizz – there's a slapdash nature to the assembly of Ocean's 8 that makes it feel like the result of a rushed, often careless process. It's made watchable thanks to the cast but star power alone cannot mask creative inadequacy. Stealing a diamond necklace is bad but wasting an opportunity like this is unforgivable."
Vulture
"This is the weird thing: For all the noise around its casting and even its very existence, Ocean's 8 is a surprisingly quiet movie. Steven Soderbergh's Ocean's movies (which 8 is far more in conversation with than the original Frank Sinatra film) had a kind of lazy masculine luxury about them, a manspread in the finest Italian tailored suit. Ocean's 8, directed with workaday flatness by Gary Ross, never revs up an equivalent sort of confidence among its seemingly bountiful ensemble of personalities. All its getting-the-gang-together scenes — which should be half the fun of this kind of joint — feel airless, conducted in soundproof rooms devoid of ambiance or texture or jokes."
Indiewire
"Ocean's 8," a woman-centric take on Soderbergh's love for making crime look cool, doesn't have much in the way of original plotting, instead rooting its purpose in a premise that should no longer be considered as revolutionary as it is — building an entire film around unique female characters."