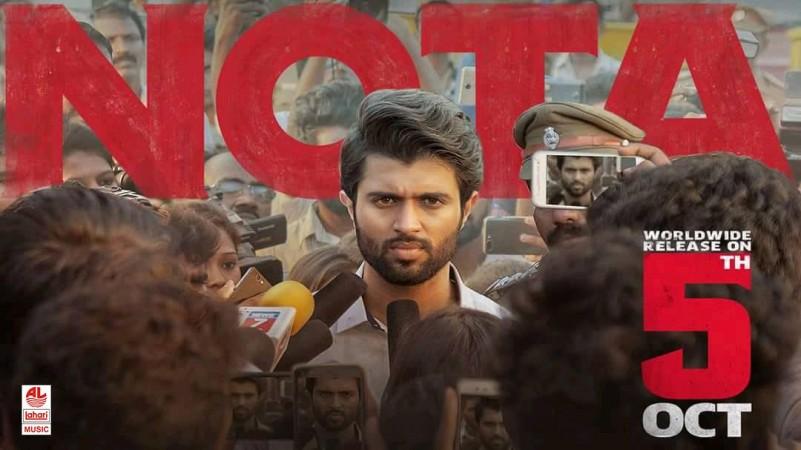 NOTA has failed to impress Telugu film critics who say that Vijay Devarakonda has delivered a brilliant performance but director Anand Shankar's poor execution mars the beauty of the movie.
NOTA revolves around the story of spoilt brat Varun (Vijay Devarakonda), who is not interested in the political life of his father (Nasser). What happens, when he is made the Chief Minister of the state forms the crux of the film.
The Telugu film critics say that NOTA lacks a fresh story as the viewers have witnessed such a subject in recent releases like Leader and Bharath Ane Nenu. Despite having seasoned actors, Anand Shankar has failed to make the film engaging and entertaining. It also suffers from predictable and slow narration in parts. Moreover, the movie is high on Tamil scent and lacks Telugu nativity.
The Telugu critics add that the movie showcases Vijay Devarakonda in an aggressive manner, but his heroism is missing, which may disappoint his fans in the Telugu states. Nasser and Satyaraj have done top class acting, which are the assets of the film. But Mehreen Pirzada's role is out of the place. Music, dialogues and picturisation are the attractions on the technical front.
NOTA has been rated an average of 2.25 out of 5 stars. We bring you some Telugu film critics' verdict and ratings for the movie. Continue to see them in NOTA review roundup:
123Telugu Rating: 2.75
NOTA is a routine political drama which the Telugu audience have seen many a time. Vijay Devarakonda leads from the front but the story and proceedings are predictable and do not support him much. However, this film will be a good launch pad for Vijay in Tamil and will be liked by the audience there as the flavor, sensibilities and satires are quite relatable. But for the Telugu audience this film ends as a below average fare and can be given a shot only to see Vijay in a new avatar.
APHerald Rating: 2
The second half has several drags, and despite that NOTA is gripping and engaging, though the songs could have been done away with. All said, NOTA is an average thriller from VD.
Telugu360 Rating: 2.25
NOTA is a forgettable political drama with no noteworthy moments at any phase. It offers some relatable elements for Tamil audience, but for Telugu states no such saving grace. With no entertainment nor other commercial elements, overall this film disappoints. A bad judgement by Vijay Deverakonda because of whom this film opened well at Box-office across South India and USA
GreatAndhra Rating: 2
No entertainment, no engaging thread, no clap worthy moment... the self-proclaimed political movie is a complete bland effort from director Anand Shankar. Not even Vijay Deverakonda, who has given another good performance, manages to save this dubbed movie. Adding to the clumsy narrative, there are two bad flashback stories of Nasser and Sathya Raj, which are a complete put off.