When you have so much ridiculous talent at your disposal, quite often, the person that makes all that talent tick, all that talent function effectively is the one that is usually overlooked in that particular talent department. That is precisely what was missing for France in their attack against Australia in their Fifa World Cup 2018 opening match.
In theory, Kylian Mbappe, Ousmane Dembele and Antoine Griezmann should have been a dream trio up front, but on the pitch, it turned out to be anything but.
Credit must go to Didier Deschamps for understanding that the three together wasn't working, and bringing in a target man, the one who will bring all of that talent around him to the fore, was required.
Enter Olivier Giroud, the always dependable, extremely underrate, but unnecessarily over-criticised No 9.
No matter who he plays for – Arsenal for years, Chelsea during the second half of this season or for France – you know what you are going to get from Giroud – a proper shift, someone who can hold up the ball against the strongest of defences, a threat in the air and the ability to get the best out of the pacy/gifted playmakers around him.
He might miss a few presentable chances, and he will frustrate you with his decision-making at times, but for the most part, he will make sure your forwardline performs to its optimum levels.
After France failed to do that against the Socceroos, Giroud ensured that wasn't the case against a dangerous Peru side, bringing all of his strengths into play in a bright first half for Les Bleus.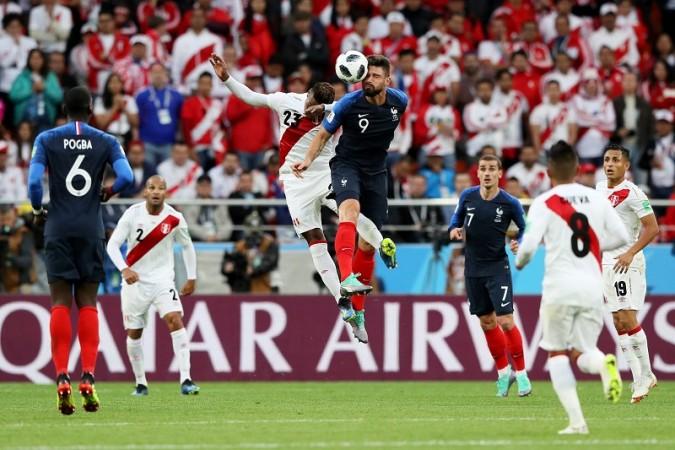 In the first half, Giroud was at the centre of most France attacks, be that with his intelligent flicks – his technical ability is something that is often overlooked – his ability to head the ball and drop it down to the players making runs around him, his movement that takes defenders out of the way, making space for the likes of Griezmann, Mbappe and Paul Pogba or his finishing ability, with that playing a major part in France scoring their goal.
It was Giroud's run, and his deflected shot, that was probably rolling in, that Mbappe latched onto and guided into an empty net, with it becoming the first teenager to score for France in a World Cup. If not for Giroud, France might not have booked their place into the round of 16 already. He nearly help make the game safe late on as well, as France were under pressure, heading one down for Dembele, with the Barcelona man just firing wide.
Yes, Griezmann and Mbappe and Pogba and Blaise Matuidi and Dembele are all important, but without Giroud, France would struggle, particularly against sides that defend deep.
Against an opponent that will have more of the ball – maybe a Spain or Germany – the younger, pacier attack might work, but against the other sides, France need Giroud as their target man, ready to take the hits from the defenders and always there to make the players around him better.