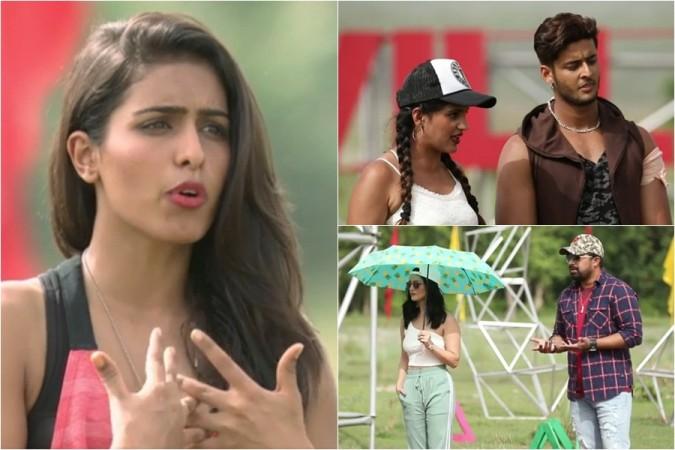 In Sunday's episode of MTV Splitsvilla 11, Shagun confronted his ideal match Arushi Handa and said that he wants to switch with Samyuktha whom he has fallen in love with. He even said that he is willing to give away his power of being an ideal match on the show. But who would've thought that Arushi, who initially didn't have feelings for Shagun, will fall for the Splitsvilla's hunk.
In a cutless clip of Splitsvilla 11 on Voot, when Rannvijay and Sunny Leone were speaking to the contestants before the Test Your Bond challenge, Arushi told Rannvijay that she has developed feelings for Shagun. But Shagun says that she never expressed her feelings to him before and said that he was completely clueless about it. And since now that Shagun has fallen in love with Samyuktha, he doesn't want to be an ideal match with a person who doesn't love him back.
Handa said that for her it takes time to fall for a person but for Shagun and Samyuktha it happened within two days. Shagun interrupts in between and clarifies that he know Samyuktha doesn't love him as of now. Samyuktha too says that it doesn't want to rush into a relationship and it takes for her like Handa to make a decision as well.
Rannvijay then gives a lesson for life while explaining to Handa that being an ideal match on the show doesn't mean you both will start feeling for each other. The feelings should be mutual and if Shagun doesn't want to be with her then it's his choice and he has every right to leave.
He asks Handa that if Shagun wants to perform and spend more time with Samyuktha how can she stop him from doing that. Shagun says that he's stuck between Handa and Samyuktha. He doesn't want to leave Handa in between but cannot even stay away from Samyutkha.
Rannvijay tells Shagun that if one person is in a relationship with the other when you don't feel for them, then you will end up hurting both the people - the one who you love and the one who you are in a relationship with. He added that it is not a good thing to stay with a person because of sympathy saying that Handa doesn't need that.
And later though Shagun and Samyuktha went on to perform together and failed to win the task, the bond between them got, even more, stronger as Samyuktha showed a lot of trust in Shagun which the latter had never got before in the Splitsvilla.
And now that Samyuktha is in the danger zone, it remains to be seen whether Shagun will be able to save Samyuktha from getting nominated and targetted in the upcoming dome session on next Sunday's episode of MTV Splitsvilla 11.