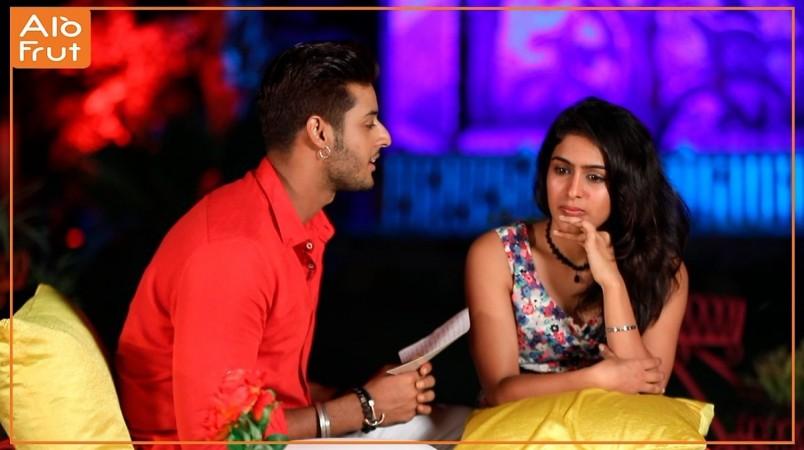 It looks like wildcard entrant Samyuktha Hegde has broken yet another connection with her entry into MTV Splitsvilla 11. After Simba, now Shagun seems to be falling in love with Samyuktha and his ideal match Arushi Handa is not at all happy about it and heartbroken.
In tonight's episode, Shagun went on a date with Samyuktha in the villa and expressed his love to her through a love letter. Samyuktha was quite blown away with Shagun's romantic gesture as this was the first letter that somebody has given to her till date.
But Shagun's actions left his ideal match Arushi Handa furious. She confronted Shagun about what was going on in his mind. Shagun tells her that he feels strongly for her and wants to switch with her.
Upon hearing this, Handa shot back at Shagun arguing that how could he think of switching with Samyuktha when they both are an ideal match on the show. Leaving Handa for Samyutha would mean that Handa will be left alone without any power.
Shagun too shots back at Handa saying that she chose to stick with him only because she wanted to be in power as they were an ideal match. When Handa refuses to listen to his words, Shagun shouts at her saying whether she wants him to marry her. To which Handa replies to Shagun that she would never marry or date a person like him.
As the argument between Shagun and Handa starts heating up, Samyuktha tries to talk to Handa but the latter refuses to talk to her as she has turned out to be a troublemaker in the villa.
Will Shagun leave Handa and pair up with Samyuktha?
Stay tuned on IBTimes.co.in for MTV Splitsvilla 11 live updates, October 21 episode at 7 pm today.