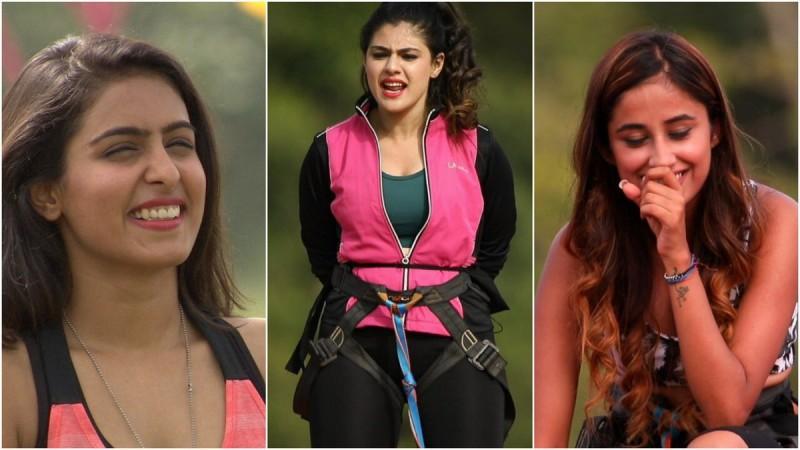 7:49 pm - After the task, Anshuman and Roshni and Simba and Maera are safe now. Rannvijay asks Samyuktha whether she will stick to Shagun, she says yes because he will stick with her. Shagun felt very special after hearing Samyuktha's words as after a very long time someone had showed such trust in him. "It has made our bond ever more stronger," says Shagun.
7:46 pm - Samyuktha again misses the chance while Roshni and Anshuman take two points away from them.
7:39 pm - Now, Samyuktha is at 2, Roshni at 2 and Maera at 4.
7:37 pm - And they get the second answer as well as Samyuktha guesses Shagun's email username right.
7:36 pm - Samyuktha and Shagun gets the first right answer.
7:34 pm - Samyuktha is getting frustrated as Shagun is performing poorly. They haven't been able to guess any word till now.
7:32 pm - Shagun seems to be performing poorly compared to Anshuman and Simba.
7:31 pm - Samyuktha and Shagun are falling behind in guessing words. She is now on zero, while Maera has scored 2, Roshni is on 1.
7:25 pm - Boys now will have to stand inside a fidget spinner and hit on letters to make a word and give hints to girls who are standing 10-feet above the ground on a platform.
7:24 pm - Gourav raps Maera that you chose me for self-respect and now that you have chosen Simba, you have no self-respect.
7:23 pm - A twist in turn, Maera chose Simba leaving everyone in shock making them question "where is your self-respect? In 10 mins its gone already?

7:22 pm - Samyuktha too chose Shagun to perform leaving Simba behind. Simba is disappointed as Samyuktha chose Shagun. Ab yeh toh Splitsvilla hai, every hour connection badalte hai.
7:21 pm - Shagun chooses Samyuktha to perform with Roshni and Maera. While Roshni chooses Anshuman, Maera chooses Gourav instead of Simba for self-respect.
7:20 pm - At the task spot, Shagun tells Rannvijay that he has fallen in love with Samyuktha and she makes him feel calm and happy. Samyuktha too feels nice that someone is openly expressing love to her.
Aur Wahi hua jiska hume darr tha, Handa has developed feelings for Shagun and nobody had any idea about it. HANDA YEH KAB HUA, KAISE HUA?
7:19 pm - Monal asks Handa to sort things out between them but as soon as Samyuktha tries to talk to Handa, the latter retorts. Handa is crying because she feels that she doesn't have anyone to perform tasks with and where will she go. Shagun says why can't he have feelings for anyone. "Mujhe pyaar hai Samyuktha, usse abhi nahi hai but mujhe to hai," says Shagun.
We all know Handa is a tough nut to crack, but Shagun's decision to leave her and move on with Sam has broken her enough to break down. We have never seen Handa like this before.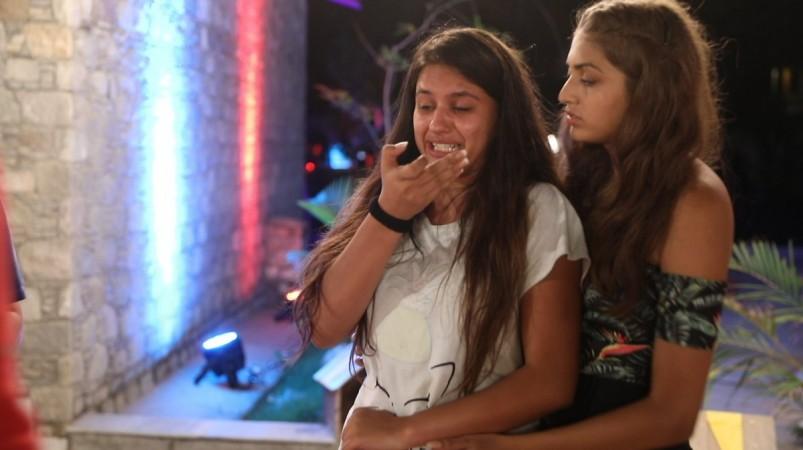 7:18 pm - Handa says. "I was never harsh to you Shagun and I have not made any connection with anyone." Shagun replies to her saying that she stuck with him because she wanted to be in power.
7:17 pm - Since Shagun and Samyukhta are clearly a couple now and it's time to finally tell Handa.
Shagun tells her that he feels strongly for her and wants to switch with her. But Shagun's actions left his ideal match Arushi Handa furious. Handa shot back at Shagun arguing that how could he think of switching with Samyuktha when they both are an ideal match on the show.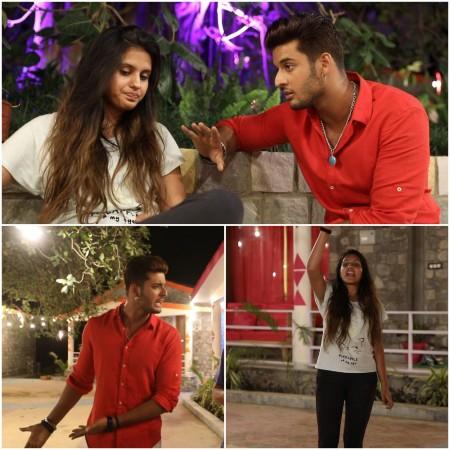 7:16 pm - As Shagun read out the letter, Samyuktha is blushing while speaking to him. Samyuktha felt very special as she got treated verry nicely by Shagun. Shagun even went on to tell her that he may want to get married.
7:15 pm - Shagun now takes the chance. He reads out a letter to her praising her nature, her beauty and the kind of person she is. The last time Shagun confessed his love to Sheetal it was at the same spot, but he never wrote a love letter for her.
7:14 pm - As Samyuktha and Shruti walk in, Samyuktha feels that Shagun is honest as he speaks what he feels and doesn't hide anything.
7:13 pm - Now since Shagun is having the power to choose between Shruti and Samyuktha to perform in the next challenge, He will be going on a date with both of them. Shagun feels that this is the only opportunity to let Samyuktha know what he feels for her.
7:12 pm - Back in the villa, Shruti hits back at Shagun for saying 'tu mere pe pal rahi hai.' Shagun, however, remained calm but blasted Handa for turning against him.
7:11 pm - While Shagun was left alone, Samyuktha gave him a shoulder to cry on and hugged him. Watching this, Arushi Handa felt something was cooking between the two.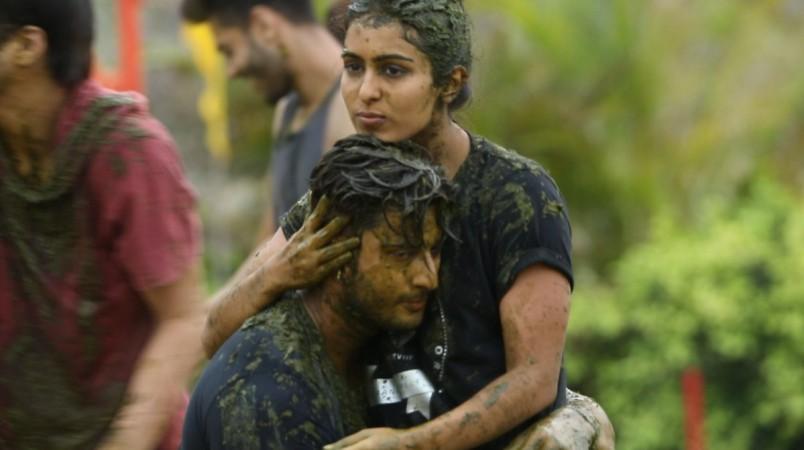 7:09 pm - Three girls will be given a chance to perform in the Test Your Bond challenge and the girls who have got the most mud splashes will perform. And they are - Roshni and Maera and Shagun gets the power to nominate between Shruti and Samyuktha.
7:04 pm - Monal calls Anushka who is having the gutter mouth. Samyuktha too splashes mud on Anushka. While everyone thinks Anushka a gutter mouth, Kabir doesn't agree with anyone. Surprisingly, Shruti put mud on Anshuman because according to her he is a gutter mouth. And Roshni in return smears Shruti's face in mud calling her a gutter mouth.
7:02 pm - "Apna kuch karlo, merepe hi palna hai kya." Shagun chose the wrong words yet again and got into a fight with Fahad and Shruti.
7:01 pm - Everyone is targetting Shagun.
From Anshuman to Simba and now Shagun too, Samyukhta Hegde seems to have ruined a lot of connections at MTV Splitsvilla 11.
Last Sunday, we saw how Simba blatantly broke ties with Maera after he decided to go with Samyuktha. Simba even voted out Maera for elimination in the dome session which everyone in shock. Maera couldn't believe that Simba, with whom she had a connection in the villa, would vote her out one day for some other girl. She realised that her feeling was one-sided.
It looks like Arushi Handa has fallen for Shagun and since Shagun has decided to go with Samyukhta, Handa is heartbroken. Shagun told Handa that he feels strongly for Samyuktha and wants to switch with her.
Meanwhile, in tonight's episode, Samyuktha will be performing against Roshni and Maera. While there is no doubt that the competition will get personal since Samyuktha has been accused of trying to steal Roshni and Maera's connections, stay tuned for MTV Splitsvilla 11 live updates, October 21 episode at 7 pm today.