India cricket team pacer Mohammed Shami has said he was not aware of his wife Hasin Jahan's first marriage and subsequent divorce when they tied the knot in 2014.
Shami has alleged that Jahan had not told him about two of her daughters from the first marriage and that the former Kolkata Knight Riders cheerleader had even said they were her sister's children.
Jahan, who was a former model, had married Sheikh Saifuddin, a general store owner in West Bengal before getting divorced in 2010. The two daughters have been staying with their father ever since, according to The Times of India.
"I was not aware that it was her second marriage with me and it was only after we got married that I was told about two of my daughters. My wife first told me that they were her sister's children, not hers," Shami told India News.
The ongoing domestic feud involving Shami is getting murkier with every passing day. Ever since Jahan took to Facebook to accuse the Bengal pacer of "adultery and domestic violence", both the parties have been relentlessly pointing fingers at each other over the disintegrating relationship.
Jahan even claimed Shami and his family had been torturing her for the last two years and that the 28-year-old even forced her to get intimate with his brother at their Uttar Pradesh residence last year.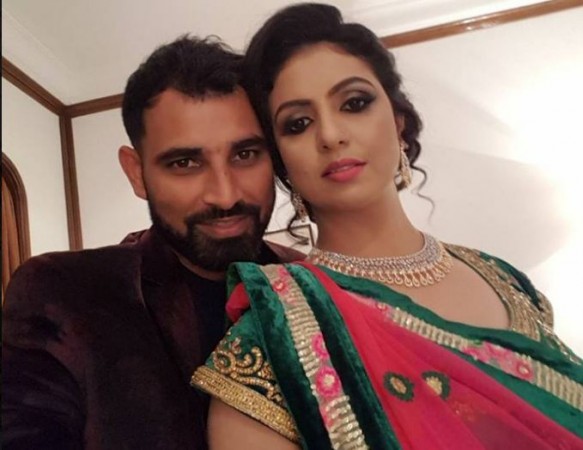 The India cricket star, whose annual retainership contract with the Board of Control for Cricket in India (BCCI) was withheld last week, hit back at those claims, saying his wife had lost "mental stability".
Shami and four of his family members have been charged under several non-bailable sections, including rape and attempt to murder after his wife filed a police complaint at Kolkata's Jadavpur police station last week.
'Pakistan girl Alisbah one of my fans'
Meanwhile, Shami has rubbished Jahan's allegations of his involvement in match-fixing. Jahan had claimed that the cricketer had accepted money from a Pakistan girl named Alisbah on the insistence of England-based Mohammed Bhai.
The Supreme Court-appointed Committee of Administrators, which oversees the operation of the BCCI, has asked the board's Anti-Corruption Unit to investigate match-fixing claims against Shami. A report is expected to be filed by the ACU within a week.
Kolkata police had also sought details of Shami's travel details during India's recently concluded tour of South Africa, especially his stay in Dubai.
However, Shami has maintained that Alisbah was one his fans in Dubai and her name is being unnecessarily dragged into the controversy.
"Celebrities often have a lot of fans and she (Alisbah) is one of them, her name is being falsely dragged into the matter to cook up a controversy," Shami said.