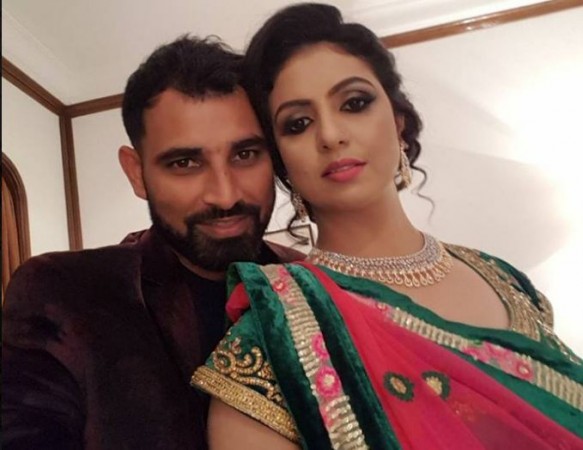 A day after accusing Mohammed Shami, his wife Hasin Jahan has alleged the India pacer has been involved in match-fixing and also took money from a "Pakistani girl" Alishba in Dubai.
The 27-year-old's better half alleged the UP-born bowler had cheated on her and even tried assaulting her. She even filed a complaint at the Kolkata Police Head Quarters in Lalbazar on Wednesday.
Shami has denied these allegations and stressed it was a "well thought conspiracy against him." He even admitted that he is unaware as to why Jahan is slapping these accusations and insisted he will let people know once he finds out.
However, things have not gone in the Delhi Daredevils' speedster. Shami's wife has accused him of bring the game of cricket to disruption by fixing matches over insistence of England-based businessman Mohammed Bhai. Jahan even stressed that she has a proof for the same.
"If Md. Shami can cheat me then he can cheat the county as well. He accepted money from a Pakistani girl named Alishba in Dubai. He agreed to accept it after insistence of England-based Mohammed Bhai. I have proof," Jahan told ABP News, as quoted by the Financial Express.
Jahan, who married Shami in 2014, has also alleged the bowler's mother and brother assaulted her and even tried to kill her.
"Everyone in their family used to torture me. His mother and brother used to abuse me. The tortures continued till 2-3 am in the morning. They even wanted to kill me," Shami's wife explained, as reported by Deccan Chronicle.
"Shami abused me and started beating me even after returning from South Africa. He has been doing this for quite some time now and now I have had enough.
"I tried to convince myself for the sake of my family and daughter but he kept on harassing me and when I found those obscene chats with multiple women, all hell broke.
"I cannot tolerate this anymore and I have decided to take legal actions with all the available evidence. Instead of accepting his own mistakes, he used to vent his anger on me and even threaten me, asking to keep mum for my own goodwill."