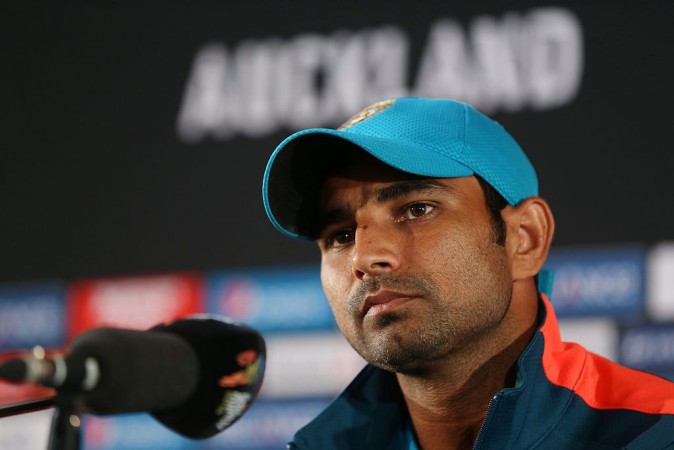 India cricket team fast bowler Mohammed Shami said the accusations against him by his wife Hasin Jahan have been "increasing day-by-day" and that he has no explanations about them. The 27-year-old added he rather wants the claims to be "investigated thoroughly".
An FIR was filed against the Bengal pacer at Kolkata's Jadavpur police station under various non-bailable sections, including attempt to murder and rape, and bailable sections following Jahan's complaint. In her complaint, Jahan accused the cricketer of domestic violence and adultery.
She has been relentlessly accusing Shami ever since she took to Facebook on Tuesday (March 6) to post photos of his alleged chats with multiple women. The former Kolkata Knight Riders (KKR) cheerleader even said the cricketer and his family members had been torturing her for the last two years and even tried to kill her.
Shami's wife made a sensational claim Friday, March 9, when she said the Delhi Daredevils' pacer had forced her to get intimate with his brother at his Uttar Pradesh apartment in December 2017.
"There have been many accusations which are increasing day-by-day. I don't want to give an explanation about it and I want it to be investigated thoroughly," Shami told ANI news agency Saturday, March 10.
Have full faith in the BCCI: Shami
Shami faced the brunt of the allegations as the Board of Control for Cricket in India (BCCI) Wednesday, March 7 withheld his name from the list of centrally-contracted cricketers. The governing body released a list of 26 men's cricketers, who were handed a pay hike with their annual retainership contracts.
The pacer though insisted Saturday he has full faith in the BCCI and has no tension about the impending decision over his India cricket team future.
Notably, the Daredevils, who bought Shami by using the Right-to-Match (RTM) option at Indian Premier League (IPL) auction in February, are reportedly discussing the sensitive situation with the BCCI.
A board official even mentioned that the Delhi-based franchise will be wary of their brand image before taking a final call on the pacer's participation in the upcoming 11th edition of the cash-rich league, starting April 7 in Mumbai.
"Have full faith on BCCI, whatever decision they take will be after much deliberation and investigation. I have no tension regarding that," Shami added.