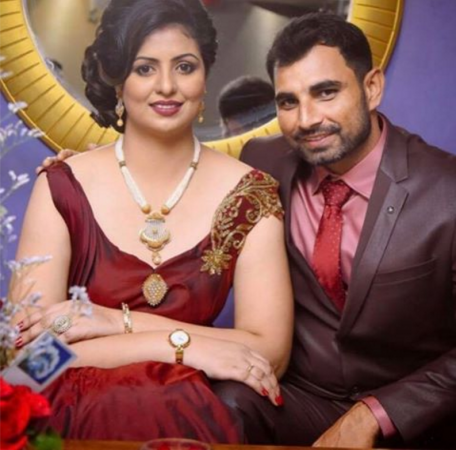 India cricket pacer Mohammed Shami is going through trying times following his wife Hasin Jahan's relentless accusations of adultery, domestic violence, and even match-fixing.
Shami has also been charged under numerous non-bailable sections, including rape and attempt to murder after Jahan filed a police complaint at Jadavpur police station in Kolkata last week.
The Bengal pacer's annual retainership contract was also withheld by Board of Control for Cricket in India (BCCI) and his immediate future with Indian Premier League (IPL) franchise Delhi Daredevils (DD) is in doubt.
Amid all the allegations, Shami took out time to post a photograph of his daughter on his official Twitter page with an emotional caption. It read: "Chocolate lover ....miss u bebo [sic]."
The pacer's post was met with positive response and he came up with another tweet, thanking people for supporting him.
Thanks to all my friends for your love and support

— Mohammad Shami (@MdShami11) March 12, 2018
Shami has been facing heat ever since Jahan took to Facebook on Tuesday, March 6 to post evidence for the cricketer's alleged conversation with multiple women. The former model also revealed she was facing torture from the DD fast bowler and his family over the last two years.
Jahan claimed Shami had taken money from a Pakistani girl in Dubai and alleged it might be a case of match-fixing.
The former Kolkata Knight Riders (KKR) cheerleader, who married the India cricketer in 2014, even alleged that she was forced to get intimate with her brother-in-law at the cricket star's Uttar Pradesh residence in 2014.
Shami's mobile phone seized
Meanwhile, Kolkata police have begun investigating the allegations against Shami. The detective department has approached the BCCI, seeking details of the cricketer's alleged visit to Dubai during India's recently-concluded tour of South Africa.
Shami's mobile phone has also been seized by the police, according to The Times of India report.
Notably, the senior members of the families of Shami and Jahan had reportedly met on Monday to discuss the possibility of an out-of-court settlement.
Shami, who had expressed surprise at the "increasing allegations", also said earlier this week that his family and his daughter will be benefited if they can solve the ongoing issue at the earliest.
"If this matter can be solved by talking, nothing can be better than that. Only patch up will do good for us and our daughter," Shami had said, as quoted by ANI news agency.