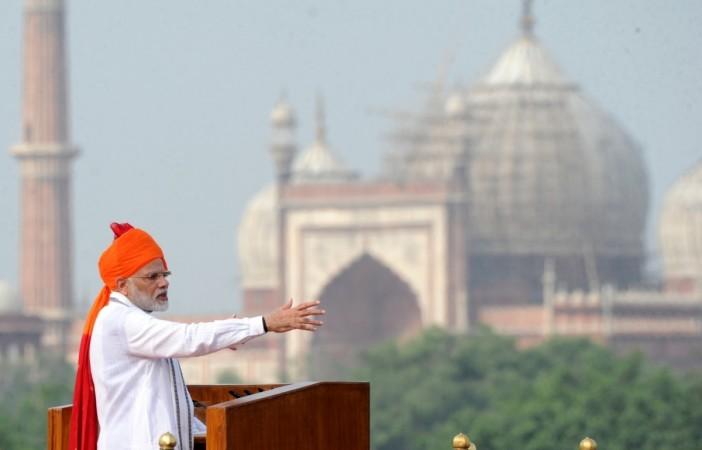 Prime Minister Narendra Modi on Sunday addressed the nation in his Mann Ki Baat program and conveyed his greetings to the nation on Raksha Bandhan and upcoming Janamashtmi festival.
Speaking about the Monsoon Session of Parliament, Modi said that the session has been devoted to social justice and youth welfare and congratulated his colleagues.
He also paid tributes to former Prime Minister Atal Bihari Vajpayee. Remembering the late leader who breathed his last on August 16, the Prime Minister said that the country will always be grateful to Vajpayee for bringing a distinct and positive change in the political spectrum of the country. He also gave Vajpayee the credit for the anti-defection law.
Speaking about the Kerala floods, Modi said that India stands shoulder to shoulder with the people of the flood-hit state in their testing times. He also expressed his condolences to those who have lost their loved ones in the floods which claimed around 400 lives.
The Prime Minister appreciated the efforts of the security forces in carrying out the rescue and relief operations in the state. "The Indian Air Force, Army, Navy, BSF, CISF, RAF and NDRF have left no stone unturned in the rescue and relief operations in Kerala," he said.
On the Triple Talaq Bill, Modi said that he would like to assure the Muslim women in the country that the entire nation was there with them and will make sure that they get justice. Speaking of crimes against women, he said that his government's focus remains the empowerment of women.
"No society can tolerate injustice to women. The country is not ready to tolerate those accused of rapes," he said.
Modi also spoke about the Criminal Law (Amendment) Bill that provides for a death sentence for raping girls aged under 12 and enhances minimum punishment for rape of a woman from seven years to 10. He also asserted that his government was committed to safeguarding the rights of the SC and ST communities.
Congratulating the medal winners at the 2018 Asian Games, the Prime Minister said that the country's eyes are on Jakarta and it was proud of the medal winners and wished the atheletes who are yet to perform the very best. He also urged the country to focus on fitness.
Remembering Bharat Ratna doctor M Visvesvaraya, Modi lauded the efforts of engineers towards nation building. "India has been a lab for engineers to experiment and we have had so many great engineers who have made the impossible possible," he said.
Modi concluded his program by saying that he shall keep meeting the citizens of the country through Mann Ki Baat. "We will keep meeting through Mann Ki Baat, and will keep sharing matters close to our hearts. We will join hands in taking our country forward with heartfelt vigor. With these feelings, I extend my best wishes to you all. Thanks. We shall meet," he said.