Prime Minister Narendra Modi unfurled the national flag and addressed the nation from the ramparts of the historic Red Fort in Delhi on the occasion of the 72nd Independence Day on Wednesday (August 15). This was the fifth time that Modi delivered a speech on the occasion of Independence Day since he was sworn in as the PM of India on May 26, 2014.
Here are 10 key takeaways from his I-Day address:
Healthcare- Modi announced that the Pradhan Mantri Jan Arogya Abhiyaan, a healthcare scheme for poor people will be launchded on September 25. Ayushman Bharat , popularly known as "Modicare", will be rolled out on the birth anniversary of Deen Dayal Upadhyay, co-founder of the Bharatiya Jana Sangh.
"The healthcare initiatives of the Government of India will have a positive impact on 50 crore Indians. It is essential to ensure that we free the poor of India from the clutches of poverty due to which they cannot afford healthcare," the PM tweeted.
Farming sector- The PM said that his government aims is to double farmer incomes by 2022. He said that he is focusing on the introduction of new technology and farming methods in the field of agriculture.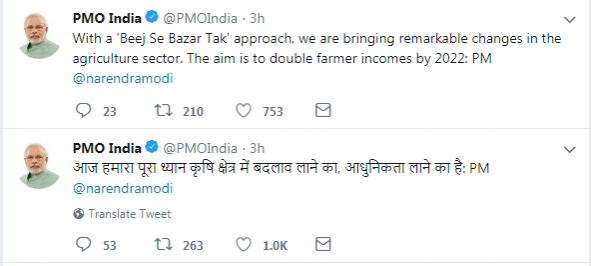 Space missions- A major highlight from Modi's speech is that he wants to send an Indian to space like Russia, China and the US.
"Today, from the ramparts of the Red Fort, I want to give the country a good news. India has always advanced in space science but we have decided that by 2022, when India completes 75 years of Independence, or before that, a son or daughter of India will go to space with a tricolor in their hands,"Modi asserted.
Women empowerment- Modi addressed a few women issues like Triple Talaq and also lauded women who have excelled in different fields like defence.
"Women officers commissioned in short service will get opportunity for permanent commission like their male counterparts," Modi tweeted.
"I am proud of the fact that three women judges in Supreme Court are delivering justice. Since independence, this is the first cabinet with so many women members," PM Modi added.


Rapes in India- The PM condemned rapes in India.
"We have to free our society and country from this disgusting mentality of rape. Recently, in Madhya Pradesh, a rapist was hanged by fast track court. We should spread this news and make people aware. Rule of law is supreme, no one can take law in their hands," PM Modi said.
Peace in Kashmir and northeast- Narendra Modi stressed on the need to embrace peace in Kashmir and the northeastern states of India. He said that to fight for peace in Kashmir, we have to follow the idea promulgated by Atal Bihari Vajpayee, that is Insaniyat, Jamhuriyat, Kashmiriyat.
""We want to go ahead on that road... Not bullets and abuse, we want to embrace the patriotic people of Kashmir," Modi said.
Swachh Bharat- The PM said that due to Swachh Bharat mission, lakhs of children are able to lead healthier lives.
"Even the WHO has praised it. Mahatma Gandhi led the Satyagrahis to freedom. Today, the Swachhagrahis have to ensure a Swachh Bharat," he added.
Corruption- Modi, who on several occasions has harped on the need to eradicate corruption from India, asserted that corrupt people won't be forgiven.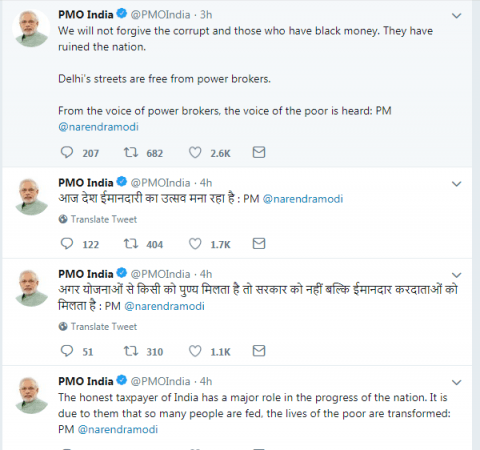 Jallianwala Bagh massacre and freedom fighters- Modi paid respect to the martyrs of the Jallianwala Bagh massacre and the freedom fighters of India.
"On behalf of the people of India, I bow to all those great women and men who sacrificed themselves for the nation during the freedom movement," the PM tweeted.
"Next year on Vaisakhi, it will be the 100th anniversary of the massacre in Jallianwala Bagh. I remember the martyrs of the country in this massacre and pay my respect to them," Modi added.
The PM spoke highly of Tamil poet, Diraghadrishata and Optimist Subaramaniyam Bharati.
महान तमिल कवि, दीर्घदृष्टा और आशावादी सुब्रामणियम भारती ने लिखा था कि भारत न सिर्फ एक महान राष्ट्र के रूप में उभरेगा बल्कि दूसरों को भी प्रेरणा देगा।

उन्होंने कहा था- भारत पूरी दुनिया को हर तरह के बंधनों से मुक्ति पाने का रास्ता दिखाएगा: PM @narendramodi

— PMO India (@PMOIndia) August 15, 2018