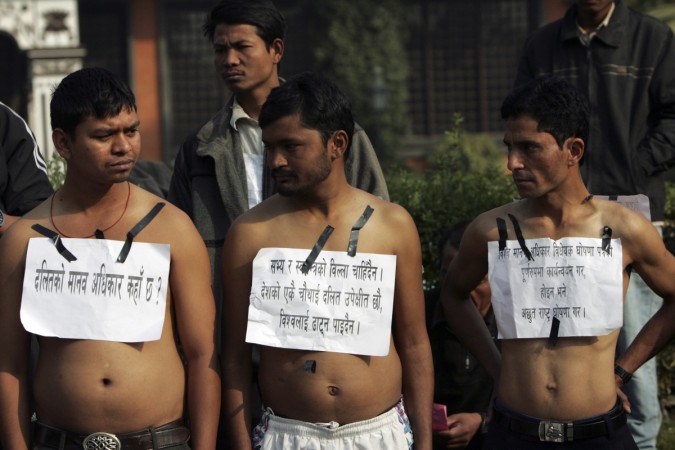 Seven Bajrang Dal activists were arrested in Karnataka's Chikkamagaluru district after they allegedly attacked a Dalit family, including a differently-abled man, on July 17 over rumours that they had consumed beef. Three members of the family are seriously injured.
The family members were allegedly beaten up with sticks and threatened with machetes, CNN News18 reported.
"Forty to fifty Bajrang Dal activists attacked the family. Three of those who were hit are seriously injured. While some people were arrested in the case, they are now out on bail," the General Secretary of the Karnataka Communal Harmony Forum, who have filed the complaint, was quoted by NDTV as saying.
The seven accused have been booked under the Scheduled Castes and the Scheduled Tribes (Prevention of Atrocities) Amendment Act.
Meanwhile, two Dalit youths were allegedly beaten up by over 25 people in Maharashtra's Beed district for overtaking a vehicle.
Six youths were travelling on three motorcycles when this happened, following which the accused forced them to stop and beat them up. The men claim that the beating got worse after they saw pictures of Dr. BR Ambedkar on their motorcycles.
"They had marks on their body that showed that they were beaten with belts. There were for four others with these two boys but since they haven't given us their statement, we don't know the full story yet. We have not caught the accused yet. A case filed under Prevention of Atrocity Act has been registered," Assistant Superintendent of Police in Majalgaon, Hari Balaji, was quoted by NDTV as saying.
Investigation is still underway and no arrests have been made so far, ASP Balaji told International Business Times India. He added that the accused were drunk when the incident took place on July 22.
Protests have been going on by the Dalit community in Gujarat, Uttar Pradesh and other areas after video footage showed four Dalit men being stripped and tied to an SUV, beaten with iron rods and paraded by self-appointed "gau rakshaks" for skinning a dead cow in Gujarat on July 11.