Anil Kumble is universally hailed as one of the finest gentlemen to have played the game of cricket and throughout his career, the leg spinner has been a bona fide match-winner for India. In 403 international matches, Kumble picked up 956 wickets and is the highest wicket-taker for India in Test Cricket with 619 scalps. So as Anil Kumble turns 48 today, here's looking back at five of his best performances with the red ball.
Honourable mention: 13-181 vs Australia at Chennai in October 2004
Although Kumble got a man of the match award for that game, it does not find a place in the top 5 because there was another Kumble performance earlier that year against the same opposition that was more dramatic in its happening.
5. 10-134 vs New Zealand at Kanpur in October 1999
Adding to his 4 wickets in the first innings, Kumble picked up 6-67 in the second to set up an easy chase of 83 runs that India knocked off with 8 wickets to spare. After dismissing the top order under 20 runs, Kumble came back to break a defiant 7th wicket stand, before trapping number 11 Wiserman plumb in front to close out the innings.

4. 11-128 vs Sri Lanka at Lucknow in January 1994
India registered a mammoth victory by an innings and 119 runs against soon to be world champions on the back of a match-winning spell of 7-59 in the Sri Lankan second innings. Kumble dismissed all of the top 5 batsmen and then returned to clean up the tail in just three balls of his 28th over.

3. 12-279 vs Australia at Sydney in January 2004
It took a match-saving effort by Steve Waugh, in his final test innings, to deny India a series victory in Australia. Replying to India's first innings total of 705, Australia folded for 474 as Kumble spun his way to 8 wickets on foreign soil. On the final day of the test series, Kumble once again lead the Indian charge, picking up 4 wickets as Australia held on. There were a lot of sub-contexts in the match as Tendulkar battled himself to a double century and India retained the Border-Gavaskar trophy.
This performance, till date, remains one of the greatest performances by an Indian spinner.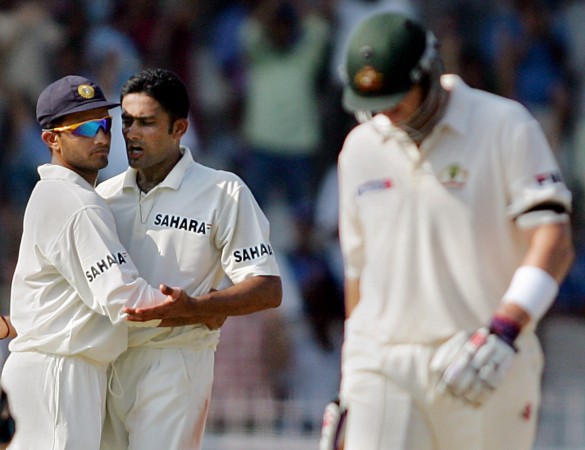 2. 10-161 vs Pakistan at Kolkata in March 2005
Pakistan had managed to escape with a draw at Mohali in the first test and India were desperate heading into the final day to pick up the 9 remaining Pakistani wickets. Kumble responded to homeboy and captain, Ganguly as he picked up 6 of those 9 wickets to hand India a famous victory. Kumble, having picked up the first wicket overnight ended up with figures of 7-63. The victory was made special by the cauldron of intimidation created by the 90,000 in attendance at Eden Gardens that afternoon.

1. 14-149 vs Pakistan at Delhi in February 1999
This is the match where Kumble picked up all 10 wickets in one innings. Chasing 420 runs to win, Pakistan had got off to a fantastic start with their openers notching up a 100-run partnership. With the score at 101, Kumble nicked Afridi off and then trapped Ijaz Ahmed in front the very next ball, setting off a dramatic collapse to level the two-match series in Delhi on a Sunday afternoon. Kumble ended the innings with 10-74!