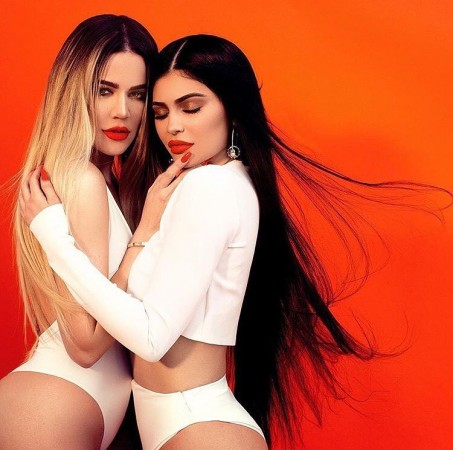 Kylie Jenner has done it again. If there's one thing the Kardashian-Jenner clan knows how to do best, it's driving fans and followers insane with speculations about their every step.
And with her latest cheesy trolling on social media with what could have been possibly her baby's gender reveal, Kylie is now all set to keep fans on the curiosity loop, dropping more hints.
Also read: Is the triple Kardashian pregnancy a ploy for $25 million?

While it appears that Kylie is doing everything to keep things private, and especially the baby bump hidden, her social media followers can't help but wonder if the baggy outfits are just a strategy to fuel the pregnancy rumours further.
The 20-year-old on Monday posted a slideshow of herself on Instagram wearing an oversized buttoned-down shirt. She captioned it "Sasha's shirt" and was soon hit with comments and remarks on how loose-fitting the outfit was.
The oversized wardrobe has been an ongoing affair for Kylie for a while now. She was spotted attending the iHeartRadio Music Festival in an extra loose shirt, and chose to post a photo of with BFF Jordyn Woods on the latter's birthday sporting a similar outfit.
Her latest sneak-tease on her Snapchat was clear indication that Kylie sure does know how to play around with people, trolling their hunger for the Kar-Jenner gossip. And even though neither she nor her family has confirmed the pregnancy, these could be just her playing along with the rumours.
Amidst speculations and deductions, news has surfaced on the internet that Kylie has apparently hired a whole team of people to help her prepare for the baby's arrival. Certain insiders told Radar Online that she "has also hired four new assistants as well as an additional two security guards to have her house guarded around the clock."
Well, you know what they say – it takes a village to raise a baby! But if the newborn is a Kardashian-Jenner baby, it clearly takes that and a lot more.
The lip-kit mogul didn't stop at just a team of assistants when it came to her baby with rapper beau Travis Scott, 25.
"Kylie hired a pregnancy coach too, who will help her with nutrition and exercise, as well as take her through Lamaze training when she gets further along," the insider told Radar Online. "Kylie is definitely not taking any chances when it comes to her unborn baby!"
As is clear, her family's apparent belief of her naiveté might have pushed her to hire a whole team while she continues to be her cheeky, frolicking self on social media.
But she isn't the only sibling teasing fans with probable confirmations.
Khloé Kardashian is also pregnant and chose to follow her baby sister's steps once again by dropping what could be possible hints.
Rumoured to be pregnant with NBA star Tristan Thompson's baby, at the release of her Good American denim campaign, Khloé sported a peplum shirt, and fans expectedly went crazy.
However, Billboard reported that the 34-year-old took matters in her own hands and explained: "This is a peplum shirt. It flairs [sic] out at the bottom."
Yet that wasn't all. The best part was her adding, "In some of the next pictures coming up from the SAME shoot, I'm in a crop top. Showing a lot of skin..."