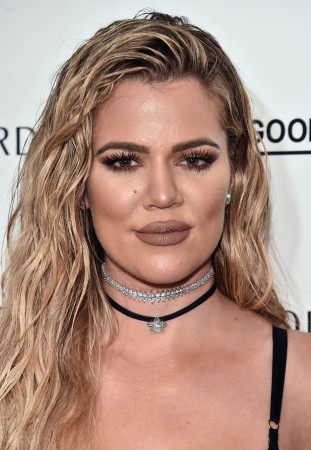 After days and a full week of speculating theories, are we finally going to be graced by the rumoured Kardashian baby bump? Well, Khloe Kardashian has stepped out in public, for the first time since her pregnancy was announced and we cannot wait!
Also read: KUWTK season 14 premiere: Hints of Khloe's pregnancy?
The keeping up with the Kardashian star is expecting her first child with NBA player beau Tristan Thompson, 26. The two have been dating for over a year now and while neither of them have confirmed or addressed the pregnancy rumours, multiple sources have vouched for it.
The 33-year-old reality TV star appeared in a suit for the first anniversary of her denim line called Good American. The event was at Nordstrom in Century City, California.
Clad in a black jacket and her blonde locks dropping down, Khloe looked the part of the ultimate clapback queen as usual. She teamed it up with a classic Chanel belt and Louboutin heels under chic leather pants.
Much like baby sister Kylie, Khloe did not address the pregnancy rumours or even speak about it at all. However, there was ample mention of her voluptuous body and her yearning to embrace herself – in all her curvaceous glory.
As People magazine reported, Khloe told the crowd: "My weight fluctuates all the time and I love that at any size I feel comfortable. When I was bigger and wore bigger clothes I looked even bigger. I love embracing my curves no matter what size I am."
There were multiple snaps that the youngest Kardashian sister shared before and during the appearance. While they were meant to promote the line and the fashion event, the camera angles were seemingly suspicious.
Was Khloe trying to get her best shot or were they strategically angled to avoid bringing out the bump!? All we can do is speculate at this point and just go gaga over how on point Khloe's selfie game is!
As for those who just cannot keep up with the Kar-Jenner baby boom, the only bit of solace is Kim Kardashian's iconic selfie from the summer where she posted Kylie, Khloe and herself lounging by the poolside. The photo was captioned "The three of us."
The very trio, each member of which is expecting their baby around January-February next year. So far only Kim's surrogacy is confirmed. Kylie, 20 and her rapper boyfriend Tragic Scott, 25, are yet to address their rumours.