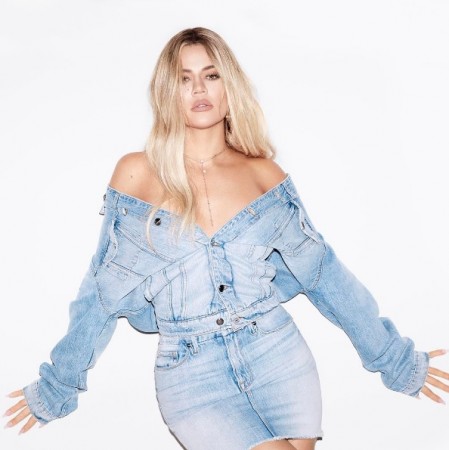 Sunday's premiere of Keeping Up with the Kardashians dropped quite a few bombs. Perhaps the most-awaited one was the passive hint at confirming Khloe Kardashian's pregnancy news.
The fact that Khloe's relationship with Tristan Thompson has been getting increasingly serious is no news to us. This was especially so after the announcement of her pregnancy, made by TMZ earlier last week, following baby sister Kylie's pregnancy rumours.
Also read: Khloe Kardashian pregnant: Twitter goes crazy as fans claim 'they are building army of their own'
However, with the premier episode, Khloe gave fans and followers, along with her siblings and close friends, a heavy sneak peek into her relationship with the NBA star and the time she spends with him at Cleveland.
From talking about seizing the opportunity to spend time together every time the Cleveland Cavaliers player is back from the road to saying how him playing means her heading back to work in LA, Khloe confessed that "it's gruelling."
"For the past eight months, I have been basically bicoastal," said the 33-year-old reality TV star. "It is gruelling. But I like being in Cleveland — it's a much simpler life, and I actually love it and crave it. I go to a lot of basketball games. It's very [much] like my old life."
Khloe tagged along with her sisters Kim and Kourtney and close friends, Stephanie Shepherd, Malika Haqq and Khadijah Haqq on her weekend trip to Cleveland. The way she showed them around the city, along with hanging out at an amusement zone exclusively to themselves, made it pretty clear that Khloe had already settled in.
The highlight of the trip was when the most important question was popped. Khloe was fronted with the question about when she wants to have a baby with Tristan and even though she played it coy, she did have some answers.
"I mean, I really don't know," she said. "I honestly wish we could just be together. When you make plans, God laughs."
Looks like there are only happy smiles from God's end for Khloe, as People magazine has already confirmed that she is indeed having a baby with beau Thompson. The couple is due around January 2018.
Older sisters Kim and Kourtney seemed to be equally thrilled for Khloe. "This is like, official. I knew you had stuff here, but ..." said Kim.
She also admitted that she and Kourtney were surprised initially. "It was, like, a big realisation. Khloé practically lives in Cleveland, and she's not rushing to come home anytime soon," she said.
Kim went on to confess how they miss having the queen of clapbacks around.
"We really do miss Khloé, and just knowing that so much of her life is here in Cleveland is hard to accept," she said.
"I'm definitely sad that Khloé is gone, but she and Tristan are really cute together. She's got a good crew over there. She's got a good support system."
Kourtney on the other hand called the situation "bittersweet".
"It's just sad that she's definitely not coming back anytime soon. But we're all living our lives and doing our own thing, so let her live hers."