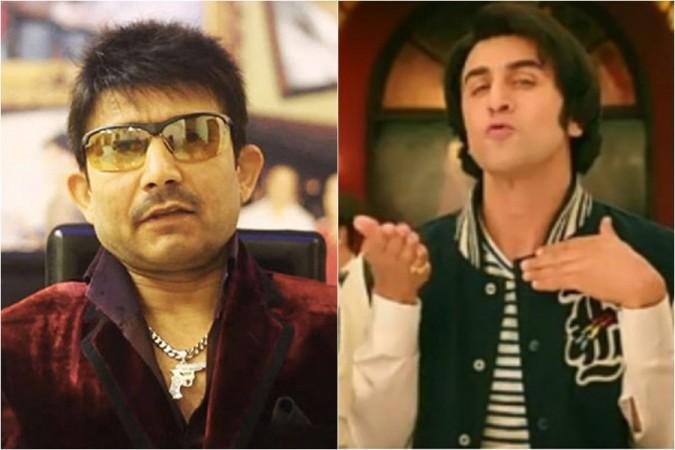 Kamaal R Khan aka KRK, a self-proclaimed film critic, who gave zero stars to Veere Di Wedding and refused to review the film for its use of cuss words, has now shared his opinion on Rajkumar Hirani's upcoming film Sanju, a biopic on the controversial life of actor Sanjay Dutt.
KRK via his KRK Box Office Twitter handle tweeted that Sanju starring Ranbir Kapoor will only show 10 percent of Sanjay Dutt's real life and the remaining 90 percent of the movie will be fiction.
He also compared Sanju with Azhar, a biopic on former cricketer Mohammad Azharuddin, which had received mixed reviews from the film critics. They felt that the movie was merely an attempt to clear Azharuddin's image since the Board of Control for Cricket in India (BCCI) had imposed life ban on him for match-fixing.
According to our sources film #SANJU is only 10% real and 90% fiction and it's dangerous. People can't accept Sanju as a Dharmatma. Azharuddin tried to make his image good by the film so #Azhar was a flop. So now we have big doubt about the success of this film," KRK Box Office tweeted.
Sanjay Dutt's close friend Salman Khan recently said that Hirani should've let Sanjay Dutt portrayed himself in the film instead of Ranbir Kapoor.
However, a few fans refused to buy KRK's analysis on Sanju and said that he will be proved wrong again this time adding that his negative review won't affect the movie's business.
"Your negativity won't affect the movie at all. This one is bonafide blockbuster written all over it. You will be proven wrong again this time," a Twitter user wrote.
While some called him delusional, others said that the movie will prove to be a success on day 1 and would surpass the box office collection of Azhar.
However, others echoed KRK's opinion and said that the movie will be termed as a disaster at the box office.
Take a look.
Your negativity won't affect the movie at all. This one is bonafide blockbuster written all over it . You will be proven wrong again this time . #Numberonecritic

— saurav (@singh__saurav) June 7, 2018
Right. It's totally fiction story. I'm sure @taran_adarsh @KomalNahta @Koimoi etc..rating 4/5 dene vale he. Public ko ch*****a banane vale he. Public pgl nahi he @RajkumarHirani . — Nikunj KukaDya (@nk_2626) June 7, 2018
@KRKBoxOffice tere sare confusion pahle din durr ho jayenge....jab SANJU pahle din hi flop AZHAR k life time collection beat kar degi..

— life4rk (@life4rk) June 7, 2018
Aisa nai hi sakta ki flop ho jaye never sanju is Sanju — Rizwan Mansoori (@RizwanM92) June 7, 2018
Sanju opening would be 40cr plus.
I guarantee!

— RAJKUMAR♥️ (@KingRajkumar100) June 7, 2018
we already knew , casting a chakka like ranbir as sanjay dutt is a crime — #RANVΞΞR (@ViKingRVS) June 7, 2018
Paise nai mila nalayak ko

— ananda manandhar (@anandamanandha1) June 7, 2018