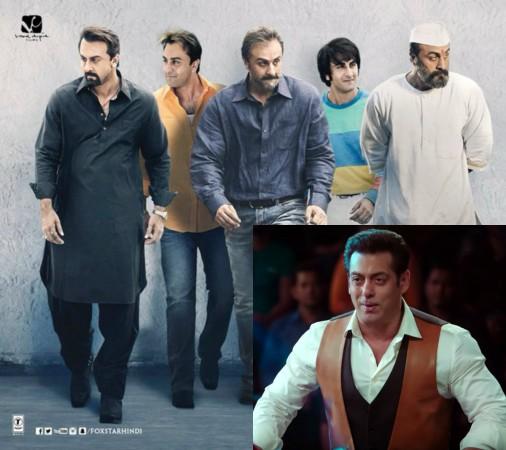 Sanju's first trailer has blockbuster written all over it. One of the most anticipated Bollywood movies this year sees Ranbir Kapoor bring Sanjay Dutt's controversial life on screen. The Rockstar actor comes eerily close to Sanjay's appearance.
It is evident that the actor underwent several transformation to recreate Sanjay's life before his debut, his life as a drug addict, his controversial life in the 1990s followed by his time in jail. While audience and several people in the industry are in awe with Ranbir's transformation, Salman Khan doesn't seem impressed with it.
The Race 3 actor, who is a good friend of Sanjay, recently shared his thoughts on the Sanjay Dutt biopic while talking to the media. The actor revealed that he has seen the trailer and feels that instead of someone portraying Sanjay's recently gone by few years, Rajkumar Hirani should have let Sanjay portray himself in it.
"Whenever Sanju wants to make a comeback, he will. It is all left to Sanjay Dutt, the day he thinks 'I want to come back, he will be back.' Even for the movie Sanju, I thought why did somebody else play his part. No one can do justice to that. The last bit of the film, Sanju only should have played it himself. The last portion of the last eight to ten years, Sanju only should have done it," he said.
Although the criticism, Salman added that he believes Rajkumar has made a good movie. "Raju Hirani is a very sensible filmmaker, I am sure he has made a good film."
Salman's is busy promoting his Eid release (June 15), Race 3. The movie releases just two weeks before Sanju hits the theatres. The film stars Jacqueline Fernande, Bobby Deol, Daisy Shah, Anil Kapoor and Saqib Saleem to name a few.