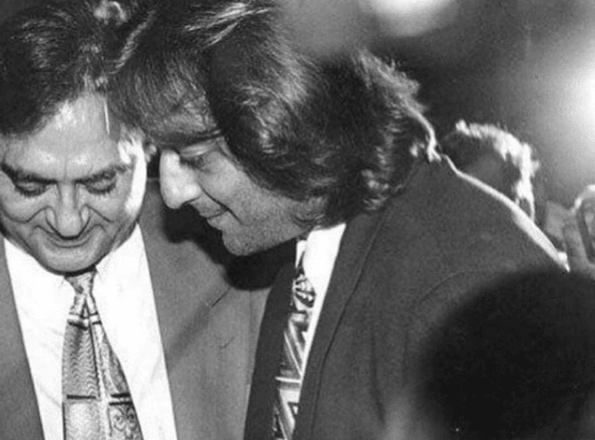 Sunil Dutt was born on June 6, 1928, in Punjab. The actor was known for his movies like Mother India, Padosan, Yaadein and more.
Sunil was known for many attributes in life – acclaimed actor, successful producer, talented director, renowned politician and Nargis' husband – but there was one key role he played in his life. He was the father of Sanjay Dutt aka Sanju.
Although he was also the father of Priya Dutt, Sanjay's younger sister, who is also a politician, and Namrata Dutt; Sunil was shared a unique bond with Sanju.
Sunil had been a doting father of the controversial actor and had been by his side through thick and thin. The two actors shared a special relationship, one that has not been seen in any other father-son duo in Bollywood.
A glimpse of their relationship was seen when Sunil shared screen space with Sanjay in Munna Bhai MBBS. The cameo was Sunil's last movie. While that was merely a few moments, there are many photos of the Sanjay and Sunil together that show the latter as a supporting father and Sanju's close friend.
With Rajkumar Hirani's Sanju releasing this month, there are possibilities that fans will understand more about Sunil and Sanjay's bond. Until then, here are a few rare and unseen photos of the father-son duo that shows their love for each other.
Remembering Nargis on 88th birth anniversary.
Seen here with Sunil Dutt and son Sanjay. pic.twitter.com/Yvgvvw08jP

— Film History Pics (@FilmHistoryPic) June 1, 2017
#RarePic
The Dutt Family. (From left to right) - Sunil Dutt, Sanjay Dutt, Namrata Dutt, Nargis Dutt & Priya Dutt pic.twitter.com/Xq6D00DZ0a

— Sailesh (@saileshvora55) July 7, 2015
Behind an actor & a politician#SunilDutt was a helpless but brave husband & a father
Who went thru hell to save his family & its honour pic.twitter.com/M2aCgsBHxO

— mukesh vig (@vigmukesh) June 6, 2018
Both of them achieved stardom accidentally. And their journeys are no less interesting than films#SunilDutt-#SanjayDutt story on 92.7BigFM pic.twitter.com/QYt4AM8Vip

— Siddharth (@RJSIDDHARTH) May 23, 2017
Tribute to SUNIL DUTT on death anniversary.
Gentleman with a golden heart who excelled in many roles, both on and off screen.

Seen here with family and with Kishore Kumar in 'Padosan'. pic.twitter.com/OX6xpsLMdN

— Film History Pics (@FilmHistoryPic) May 25, 2018
Tributes to actor/filmmaker/politician/humanitarian & a great human being, #SunilDutt ji on death anniversary (May 25)

With wife #Nargis ji after he saved her from fire on sets of Mother India.
With #SanjayDutt, #KumarGaurav, #PriyaDutt, #NamrataDutt, her kids & his Filmfare pic.twitter.com/vkJs54SaEC

— Movies N Memories (@BombayBasanti) May 24, 2018
ROCKY : released today in 1981.
37 yrs since Sanjay Dutt 's debut.

Seen here with Amjad Khan and father Sunil Dutt at the premiere. pic.twitter.com/lHLE7pM0pe

— Film History Pics (@FilmHistoryPic) May 8, 2018
Remembering SUNIL DUTT on his birthday! He and Sanjeev shared a close friendship!#SanjeevKkumar #SunilDutt @DuttSanjayFC @duttsanjay @Bollywoodirect @BombayBasanti @FilmHistoryPic @mib @NFAIOfficial @ZeeClassic @PriyaDutt_INC @dastaan_memoirs @VintageMuVyz pic.twitter.com/mW1XIogVLw

— SanjeevKumarAdmirers (@SKumarAdmirers) June 6, 2018