Karnataka elections 2018 is turning out be a high octane three-way battle between Bharatiya Janata Party (BJP) and Indian National Congress (INC) and the Janata Dal (Secular).
All three parties have high stakes in the upcoming election. For BJP, the results will be seen as an indicator of people's impression on Narendra Modi's near-end term.
For Congress, Karnataka is its last big bastion other than Punjab; it's a battle of survival for the 132-year-old party, as it has lost base in most of the states and union territories in the country. If Siddaramaih-led Congress wins big in the state, it will boost the party's morale to fight for 2019 general elections, wherein Rahul Gandhi is projected as Prime Minister candidate.
And for JD(S) too, it's a prestigious fight. Though party chief HD Kumaraswamy is confident of forming a government on his own, he has his task cut out. After Kumaraswamy defected from the coalition with Congress to support Yeddyurappa in 2006, he managed to become CM for 20 months. When the time came for surrendering the CM chair to Yeddyurappa, he reneged forcing early elections in 2009. Since then, JD(S) has lost bases in central Karnataka but managed to keep its hold in Vokkaliga-dominated old Mysuru regions.
In 2013, JD (S) managed to secure 40 seats, but in the lag end of the 5-year term, as many as 12 candidates have jumped shipped to Congress. This election is very important for JD(S) to win at least more than 50 or else it will lose relevance as a regional party in the state.
Karnataka Elections 2018: Here's is a list of top 10 constituencies to witness high profile political fights
1) Chamundeshwari: Siddaramaih, despite being the incumbent chief minister of Karnataka, is facing one of the toughest battles in his four-decade-long political career. He is taking on his old-time confidante GT Devegowda from JD(S), and relatively unknown Gopal Rao from BJP. But its two-way battle with Siddaramaih and Devegowda; the latter seemed to have a good rapport with locals, as the local resident of Gungaralu Chatra village, which falls in the Chamundeshwari constituency.
One of the main reasons for animosity among the people over Siddaramaih is for his anti-Vokkaliga stance. He is accused of ordering the removal of former Prime Minister HD Devegowda's portrait in Vidhana Soudha and also transferring Vokkaliga government officials to low profile designations, while the officers of Kuraba community were given coveted positions. Even Siddaramaih seems to have sensed trouble and many believe that is why he is contesting from Badami, as Kurubas, whose community he belongs to, form a big part of the constituency's population.
2) Shikaripura: This constituency is getting a lot of attention in the media, as Yeddyurappa, the CM candidate of BJP is contesting from here. He will be up against GB Malatesh from Congress and HT Baligar from JD(S). Though Yeddyurappa is a dominant leader, he still faces a threat from GB Malatesh who has roped in two prominent local leaders, one Mahalingappa who once defeated Yeddyurappa in 1999 election and Shantveeragouda from Lingayat community, which form the major chunk of the voters. They form a formidable team, but voters may still favor Yeddyurappa because he has the potential to become the CM and if it happens, he is expected to bring the developments to the Shikaripura.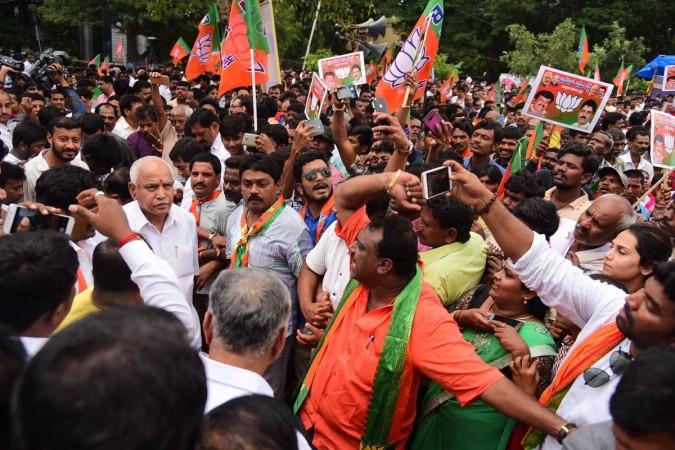 3) Channapatna: World-renowned toy town Channapatna is hosting a high-voltage battle between two dominant Vokkaliga leaders—former CM HD Kumaraswamy and incumbent MLA of the constituency CP Yogeeshwara. The former is hell-bent to avenge his wife's defeat to the latter in 2013.
Yogeeshwara, a household figure, has a good rapport not only with the major Vokkaliga community but also with Muslim and Dalit voters. But, he faces stiff competition from Kumaraswamy, as reports have indicated he has a tacit understanding with Congress and hence why they have fielded H M Revanna, a Kuruba (OBC) so that he lures away a chunk of the minority community to his fold.
It is believed prominent Congress leader DK Shivakumar is very unhappy with Yogeeshwara for jumping ship to BJP, despite the former helping him get a good amount of government funds to develop Channapatna town. Besides Channapatna, Kumaraswamy is contesting in Ramanagara. If he wins both, he is expected to vacate the Ramanagara seat to make way for his wife Anita Kumaraswamy.
4) Badami: The historical city of Badami, which used to be the heart of Chalukya kingdom is hosting a two way battle with CM candidate Siddaramiah (Congress) and Sriramulu (BJP). Badami was a safety net for Siddaramaih, as he faces a tough challenge from GT Devegowda in the Chamundeshwari. Siddaramiah belongs to Kuraba community, which forms the sizeable chunk (around 47,000) of the constituency's population. But, the calculation has gone awry with the entry of the Sriramulu. The latter belongs to the Valmiki community, which constitutes around 30,000 of the total population (2.4 lakh). He commands a strong influence on tribals stretching from Hyderabad-Karnataka to Chitradurga regions.
To add to his woes, the majority of the Lingayat community, which constitutes around 72,000 of the population are not happy with the state government decision for the recommendation to accord separate minority religion status. Sriramulu is also backed by mining baron and a close friend of Janardhana Reddy, though a controversial figure, he is still got charms to influence voters. It will be a neck-and-neck fight between Siddaramaih and Sriramulu.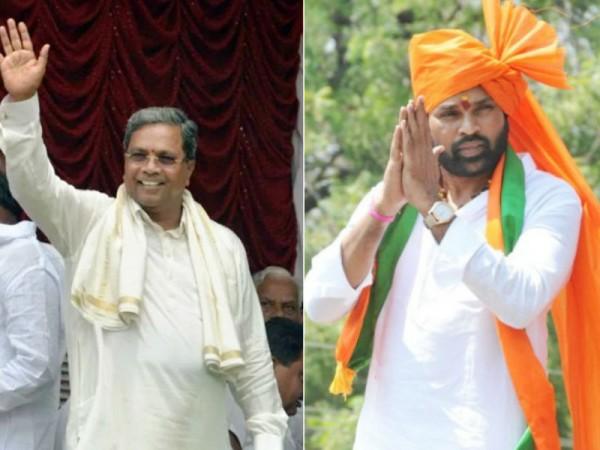 5) Hebbal: A suburb in Bengaluru North houses some of the well-developed localities including Sanjaynagar, good educational institutes such as Government Veterinary College, Dairy Science College and also the major IT hub Manyata Tech Park. It was carved out after the 2008 delimitations and since then people have elected two BJP candidates—Jagadish Kumar in 2013, but he passed away in 2015. He was then succeeded by Y A Narayanaswamy, who defeated CK Abdul Rahman Sharief, grandson of CK Jaffer Sharief.
But, this time Narayanaswamy is up against Bharati Suresh, also known as 'Money bag of Congress' with declared assets of Rs 416 crores and also the younger brother of Siddaramaih's confidante Bharathi Basavaraja.
Hebbal has sizeable chunks of Vokkaligas, Kuruba and Muslim community. But, Narayananaswamy has a slight edge over Congress candidate, as Muslims are little unhappy over the selection of the Bharati Suresh, a Kuruba to represent Congress over their own community member CK Abdul Rahman Sharief. This may split minority voters between Congress and JD(S), which apparently helps BJP.
JD(S) is fielding Hanumanthe Gowda, a Vokkaliga, but as said before the big fight will be between BJP and Congress in Hebbal.
6) Mandya: After weeks of suspense, M H Ambareesh, incumbent Congress leader rejected Congress ticket to contest elections from Mandya on the last day of the nomination filing and also announced retirement from active politics. Popularly known as "Rebel Star" in Sandalwood, he took a dig at the party leadership for insulting him. Despite working hard as the Housing minister, he has shunted out reportedly on account of non-performance.
Though Ambareesh has a poor track record of work, his popularity is said to be intact in Mandya, as the dominant Vokkaliga community still favor Mandyada Gandu (Macho man of Mandya).
With his absence in the poll campaigning, the Congress candidate P Ravikumar, a political novice will have a tough battle with M Srinivas of JD(S). On the other hand, BJP has nominated N Shivanna. This is a battle of prestige for Congress, as Mandya has been one of the party's strongholds in the Old Mysuru region.
7) Varuna: Initially, Siddaramiah had envisioned his first son Rakesh to succeed him in Varuna, but due to the sudden death of the latter in 2016, he tasked his second son Dr. Yatindra to take the mantle. Yatindra has been campaigning for more than a year in the Varuna and has become a household name in the constituency, but being the chief minister's son has its share of the burden. It is a must-win situation for Yatindra, as his father has vacated his own constituency.
He will be fighting BJP's T Basavaraj and Abhishek, Lingayat candidate from JD(S). The former has vowed to defeat Dr. Yatindra for CM's decision to accord separate minority religion status to Lingayats, thereby dividing the Hindu community.
8) Babaleswar: M B Patil, Water Resources minister was one of the most prominent Congress leaders, who spearheaded the campaign to bring minority status to the Lingayat community, but this move might boomerang big time in the upcoming elections.
According to the recent survey, more than 50 percent of respondents did not support the government decision to accord minority status. They believe it is a Congress ploy to divide the Hindu religion for sake of gaining vote share. MB Patil has brought in major infrastructure developments including Rs 3,500 Tabachi Babaleswar flood irrigation project and aqueduct project, but the accusation of splitting Lingayat community might sting him. MB Patil will be up against Vijugouda Patil of BJP. The former has lost to MB Patil twice on JD(S) ticket but by close margins. Will this be third time's charm for V Patil, we will know for sure on May 15.
9) Shanti Nagar: It is a posh locality in the heart of Bengaluru having a good infrastructure overall with small pockets of slums on the outskirts. It would have been a cakewalk for NA Harris in contesting the Shanti Nagar election this year, but, his son Mohammed Harris Nalapad's involvement in a drunken Pub brawl, which led to fatal injury to a youth in UB City café in January 2018, almost cost him a B Form application.
Congress high-command gave the final nod to Harris, only a couple of days before the last date of filling the nomination. Harris has his task cut out to cleanse his image. He will be up against Vasudeva Murthy of BJP and Sridhar Reddy of JD(S).
10) Koratagere: G Parameshwara suffered a shock defeat in 2013 at this very constituency, which also cost him the Chief Minister seat. This time, Parameshwara is leaving no stone unturned so that there won't be any repeat of such circumstances, as he still has the potential to become next CM if the results go awry for Siddaramaih in the closely-contested battle with Sriramulu (BJP) in Badami and with GT Devegowda from JD(S) in Chamundeshwari.
Also, in the eventuality of a hung Assembly results in the upcoming elections and if Congress seek the help of JD(S) to form the government, they are unlikely to support Siddaramiah. The former is accused of defaming its party patriarch HD Devegowda and his son HD Kumaraswamy on public platforms.
Parameshwara, a prominent Dalit leader maintains good rapport with regional and national leaders of Congress and this apparently helped him get elected as a Member of Legislative Council (MLC) and become the home minister. He is also the longest-serving (7 years and counting) president of the party. A win in Korategere will ensure him at least cabinet ministry if not the coveted CM post.
Stay tuned. Follow us at @ibtimes_india on Twitter for the latest news on Karnataka Elections 2018.