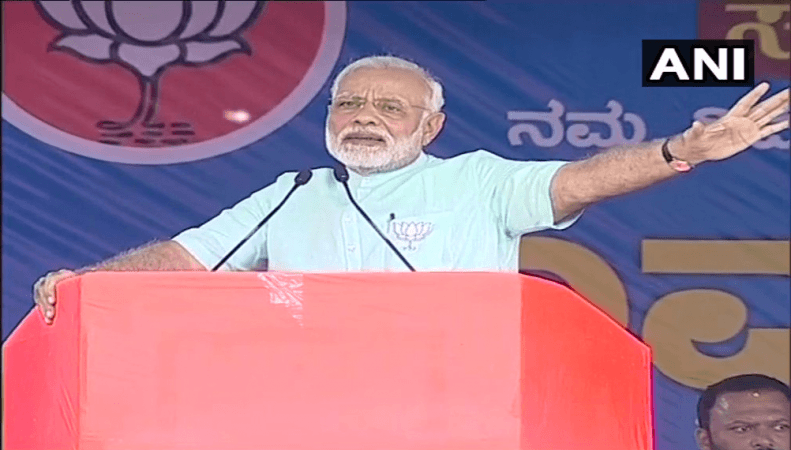 Prime minister Narendra Modi on Tuesday attacked Congress president Rahul Gandhi on his challenge to face him in Parliament and sought to turn the tables by asking him to speak for 15 minutes on the achievements of the government in Karnataka headed by Chief Minister Siddaramaiah without reading from a piece of paper.
The Prime Minister's attack came in the wake of Rahul Gandhi's challenge last week that if he was allowed to speak for 15 minutes in Parliament, Modi would not be able to withstand it.
Addressing his first election rally for the May 12 Assembly polls, Modi took a dig at Rahul Gandhi saying: "He is correct. There is no way ordinary people like me, who do not even dress well, can sit with such high and mighty people like the Congress President."
But immediately he changed gear and launched a blistering attack on Rahul Gandhi.
"The Congress President is a 'naamdaar' (only name). So how does he know about the efforts of 'kaamdaars'. We are kaamdaars (known by our work). What is our level that we can sit with people like the Congress President who look down upon us," he asked.
Challenging Rahul Gandhi to speak for 15 minutes on the achievements of the Siddaramaiah government "without reading from any piece of paper", he said: "You can speak in Hindi, English or your mother's mother tongue (Italian)."
He also challenged Rahul Gandhi to take Visveswaraya's name five times in the 15-minute speech. "That is enough. The people of Karnataka will measure the strength of your words."
Targetting Rahul Gandhi over dynasty, Modi said that his identity was through the family name while he himself was known for the work he did.
Besides Rahul Gandhi, the Prime Minister also attacked former Congress President Sonia Gandhi and former Prime Minister Manmohan Singh over their promises of providing electricity to every village by 2009.
"Perhaps due to over-excitement, the newly elected Congress President forgets decency. He did not even bother to congratulate the hardworking 'mazdoors' due to whom India's villages are getting electricity."
Modi said that in 2005, Manmohan Singh had said he will provide electricity to every village by 2009.
"Manmohan Singh said we will electrify villages by 2009. Sonia Gandhi went a step ahead and said we will provide electricity to every house by 2009. But what happened? In any case, we saw how the Congress treated Manmohan Singh. They tore off ordinances and disrespected him."
He said the Congress had nothing but contempt for the poor and laborers.
Modi said the government was now going to provide electricity to every household in India and asked those who ruled India for a majority of the years since 1947. "Why did they not think about the 18,000 villages lacking access to electricity."