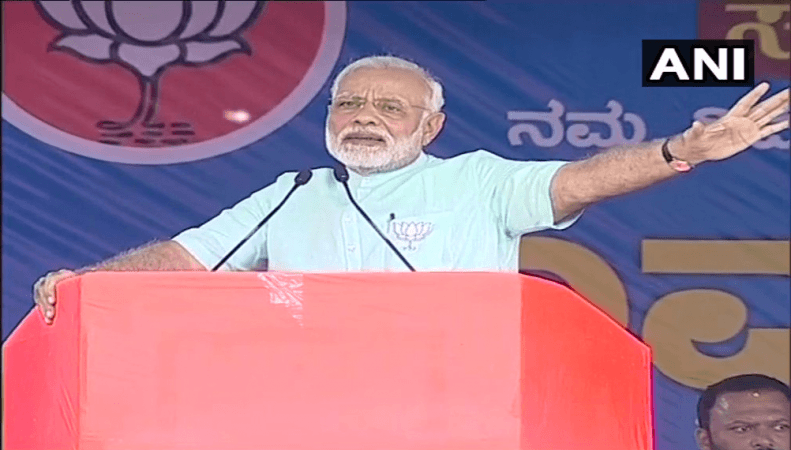 The state of Karnataka goes to polls in less than a week – May 12, with counting on May 15 – and the battle for the state is clearly heating up. In tune, prime minister Narendra Modi has embarked on an election rally in the state and is set to cover 15 locations in five days.
However, it looks like Karnataka chief minister Siddaramaiah expects Modi to answer quite a few questions and has tweeted out a series of them.
"Dear @narendramodi, Heard you are visiting Namma Karnataka tomorrow. We welcome you to our state. While you are here, we Kannadigas would like you to address the following" concerns. Please #AnswerMaadiModi," Siddaramaiah tweeted on Monday.
He also questioned Modi on his stance on corruption and asked why G Janardhan Reddy's family and friends were given election tickets. Reddy was arrested in 2011 for his alleged involvement in the illegal mining of iron ore in Bellary, Karnataka and Anantapur, Andhra Pradesh.
"And then, you lecture us on corruption. Please end this hypocrisy. Kannadigas aren't wearing Kamala on their ears," the state CM added.
He also slammed the BJP and the Modi government for nominating BS Yeddyurappa as its CM candidate and questioned the decision. "Then media reports that you don't want to be seen sharing the stage with him at rallies! Karnataka wants to know if Yeddyurappa is still your CM candidate?" he asked.
Siddaramaiah also spoke about how the BJP had given tickets to rape accused and MLAs caught watching porn in the Assembly
First, you promised 15L to ppl, then Shah called it an election Jumla. You promised jobs, but then advised youth to sell pakodas. You said demonetisation would end black money, but it only brought misery to common ppl.

And then you come here and call real development a lollipop?

— Siddaramaiah (@siddaramaiah) April 30, 2018
Your mantra = Sabka Saath Sabka Vikas but your govt has forsaken the poor. Banks write off 2.71L Cr corp loans, but farmers get only speeches. MSP for farmers not increased, but they get promise of doubling income by 2022.

Are you serious abt farmers' concerns? #AnswerMaadiModi

— Siddaramaiah (@siddaramaiah) April 30, 2018
Taking further digs at the BJP, the chief minister said that the party promises to create jobs and nothing comes out of it. He also spoke about demonetization and how the Modi government had promised that the initiative would curb black money in the country. Instead, it only caused misery to the common man, he said.
Meanwhile, Modi will be in Karnataka May 1, 3, 5, 7 and 8. He is set to address rallies in Santhemarahalli in Chamarajanagara district, and Udupi and Chikkodi in Belagavi Tuesday.
Speaking of the rallies and the upcoming election, BJP spokesperson S Prakash told Hindustan Times: "PM Modi's entry is like (Mahendra Singh) Dhoni going into bat in the crucial few last overs of a match. His mere presence will make a difference. Given his huge personal appeal, we fully expect to get a boost to our campaign."
Congress too is going all out to campaign for the May 12 elections and party president Rahul Gandhi has been visiting various parts of the state to address rallies. He is also making quite some news, but not always for the right reasons.
Congress stirred major controversy Friday, April 27, during an election rally in Bantwal, when a Congress leader reportedly asked a singer to shorten the national song Vande Mataram, so that Gandhi could deliver his speech.
A video aired by a TV channel shows Gandhi, state chief minister Siddaramaiah and a few other leaders sitting on the dais, while a singer is performing on the stage. Gandhi is then seen pointing at his watch and saying something to KC Venugopal, the AICC general secretary in-charge of Karnataka, hinting that they were running out of time.
A person then is heard telling the singer to finish quickly so that Gandhi could deliver his speech. "Just sing a line (of Vande Mataram) and finish it off," the person is heard saying.