Just when it looked like the 10-day drama in Karnataka would come to an end when chief minister HD Kumaraswamy faced the floor test on Friday, May 25, cracks seemed to be appearing in the Congress-JD(S) alliance.
Here's what happened:
Kumaraswamy has said that "real action will start now" and he will fulfill every promise he had made to the citizens of Karnataka.
He also added that he does not 'care' about any threat (BJP to call state-wide bandh on May 28 on the issue of farmers' loans waiver).
Congress and JD(S) leaders congratulate Kumaraswamy on winning the trust vote.
Kumaraswamy wins trust vote.
BJP stages walkout after BS Yeddyurappa's emotional speech.
HDK also said that the coalition was very well-thought out
I know how to treat farmers, BJP need not teach me: HDK
I and my family have always thought of the well-being of the farmers, says HD Kumaraswamy
Forming an alliance with the BJP a black mark in my career: HDK
HDK also added that Congress leader G Parameshwara was the first person to call him and offer an alliance
People of Karnataka haven't given a clear mandate: Kumaraswamy
Kumaraswamy moves trust motion in the Assembly
I welcome the newly appointed MLAs, says Ramesh Kumar, and added that they should all work towards good governance and not for power
Important for speaker to remain neutral: Krishna Byre Gowda
Deputy CM felicitates Ramesh Kumar
"I had said Speaker's post is an apolitical one. Let us felicitate you (KR Ramesh Kumar) with unanimity. I'm thankful to the BJP leaders and S Suresh Kumar for having agreed to the decision. We have seen you as a straightforward politician. You are a role-model and inspiration to all of us. Your earlier experience, we have seen you conduct the proceedings of the House with rules and regulations is a model for us, and for the entire country," he said
BS Yeddyurappa also praised the speaker and said that the BJP will cooperate in the assembly proceedings.
Speaker has an important role to play in democracy: BSY
"We withdrew (nomination of BJP candidate) as we wanted the election to be unanimous in order to maintain dignity of the Speaker's post," ANI quoted Yeddyurappa as saying.
It's our pleasure to have Ramesh Kumar as our speaker: HD Kumaraswamy
He comes with a wealth of experience, he added
Karnataka Assembly session begins
Withdrew nomination on the orders of the party, says Suresh Kumar
Floor test to begin shortly
Congress' Ramesh Kumar elected as speaker
BJP's Suresh Kumar withdraws nomination
Congress leader KC Venugopal believes that the Congress-JD (S) alliance will win the trust vote.
BJP MLAs reach Vidhana Soudha after BJP party meeting.
Congress Legislative Party meeting underway in Vidhana Soudha
Legislative assembly to begin the session at noon
The election for the speaker will be held via voting
Friday will also witness a speaker being elected and the nominees for the post are BJP MLA S Suresh Kumar and Congress' Ramesh Kumar.
Kumaraswamy will face a floor test on Friday to prove majority in the house
Cracks in the Congress-JD(S) alliance?
When the coalition was formed a few days ago, the Congress had said that it would unconditionally back JD(S) and would even support Kumaraswamy as the CM. However, reports now say that Congress may not back the JD(S) leader for five years and plans to bring in a Congress leader as the chief minister after the 2019 general elections.
The doubts came to the fore when Congress leader and Karnataka Deputy Chief Minister G Parameshwara answered a question on if Kumaraswamy will remain the CM for the whole of five years. "We have not yet discussed those modalities," the Press Trust of India quoted him as saying.
He further elaborated on the plans and added: "We are also yet to decide on what portfolios have to go to them and what should be with us, then five years term- whether they should be or we should also...all those modalities we have still not discussed."
When Parameshwara was once again asked if Congress would be okay with Kumaraswamy serving a full five-year term, he explained that the party would weigh the merits and demerits and then make the decision. He also said that all they want is good governance.
Another Congress leader DK Shivakumar's name also came up during the interaction and Parameshwara was asked to comment on if DKS was indeed unhappy with the party leadership. Shivakumar is even said to have held a separate meeting with a few MLAs to discuss the matter, but the deputy CM clarified that meeting or not, the MLAs were united.
"Discussions, group meetings may have happened or not, but above all the fact is that we are united. I can say only this," he added.
A few reports also said that several party members demanded that Shivakumar be made the party president and when asked about the same Parameshwara said that it would be a good thing considering the knowledge and experience Shivakumar has. However, he flatly refused that there could be a joint deputy CM and said that no such discussions have taken place.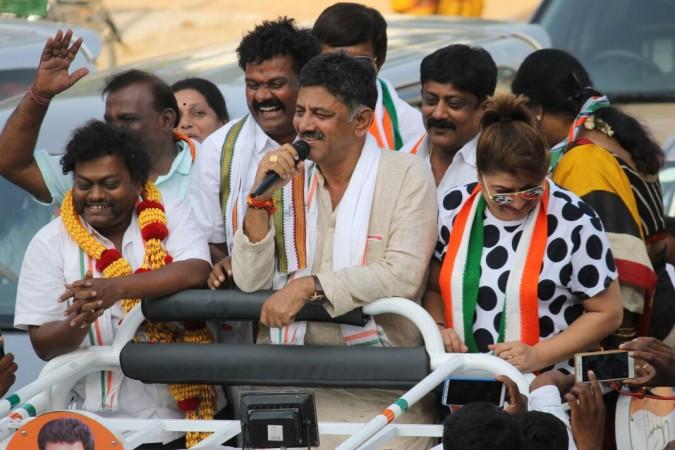 In fact, Shivakumar himself had spoken about his reported disappointment over not being named as the deputy CM and said that he never wanted the post anyway. "The party has nominated Parameshwara for deputy chief minister's post. He's been party president for eight years. Many have been sitting with their mouth open for that post, but I'm not one of them. I'm not a sanyasi not will become one. I'm a politician. The auspicious time has come and we have to have the right calculation," the Deccan Herald had quoted him as saying.
"I don't need it, all is well," he added.
Kumaraswamy's floor test
Kumaraswamy took oath as the chief minister of Karnataka May 23, and said that he was confident of winning the floor test. However, he did say that there could be last minute issues and the BJP may once again try the "Operation Kamala" tactic.
The term was coined in 2008, when the BJP persuaded a few Congress and JD(S) MLAs to join the party so that they could make up for the three short MLAs to form the government in the state.
BJP nominates S Suresh Kumar for speaker
While the saffron party failed to form the government in Karnataka despite becoming the single largest party in the state, it clearly isn't the one to back down. The party has now nominated five-term MLA S Suresh Kumar for the post of the speaker at the Assembly.
"I have filed my nomination. There is an election tomorrow at 12:15 pm. After the election, you will get to know," Kumar told PTI. Contesting against him is Ramesh Kumar of Congress.