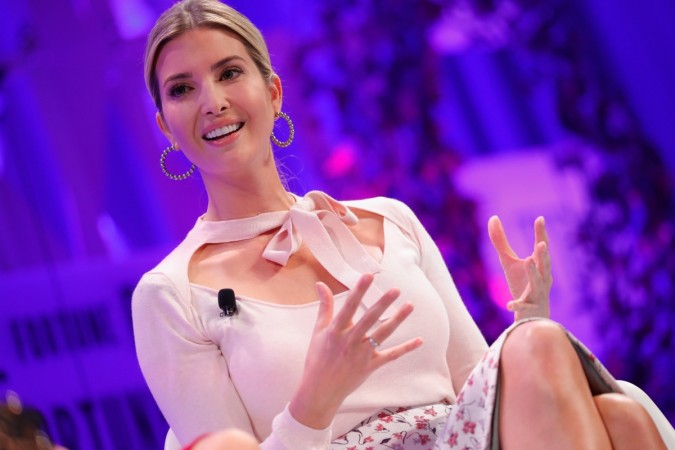 Ivanka Trump, advisor and daughter of US President Donald Trump, has yet again attracted Twitter trolls .
Global Entrepreneurship Summit, a three-day gathering sponsored by the US Department of State, is being held in India. Ivanka has arrived in Hyderabad for the event amidst controversies over her clothing label's overseas sweatshop abuses.
Also read: Global Entrepreneurship Summit 2017: Ivanka Trump arrives in Hyderabad, will inaugurate event with PM Modi
And of course, Twitter unleashed their troll-guns on full blast, especially considering this year, the summit is focused on "supporting women's entrepreneurship", and not so long ago, Ivanka's company was busted for gathering cheap labour from India itself.
Statistically, in India, the garment industry's workers suffer wages as low as $100 a month, simultaneously having undergone issues like sexual harassment and rape while at work.
A 2016 report even revealed that one in seven women garment workers in Bengaluru claimed to have either been raped or forced to perform a sex act while at work.
When confronted with questions regarding the issue, Ivana chose to remain silent. And the fact that she refrained from commenting on the women's poor working conditions, despite speaking out on empowering women worldwide, is the reason for Twitterati's outrage.
Earlier, Ivanka had also been charged with lawsuits claiming her fashion line was a cheap knock-off of other brands.
Some people even went on to point out retail brand clothes and accessories with Ivanka's label on them.
And this s what Twitter has to say:
Subtitled: "How to Run a Sweatshop Employing Minors in India While Pretending to Care About Women and Children's Rights"

— Alfred Delp (@OhmsParty) November 28, 2017
I'm a fashion biz person. Even matching the policies of other labels is an extremely low, terrible bar. And they can't even do that.

— Human Nature (@human_nature) November 27, 2017
Funny how #manga people confuse , high end fashion , cosmetic surgery , breast implants , professional makeup for class.. look a little deeper people. If a dem FLOTUS poses nude you'd be calling her trash .

— ItsMe (@Leney_3) November 27, 2017
I never understood why anyone actually thought the vile sweatshop princess would be a positive influence. She is a horrible human just like the rest of her pathetic family.

— Kathy J (@KathyBeachlvr) November 21, 2017
Ivanka Trump's 'modeling years' were forgotten for good reason. Sorry Daddy couldn't buy you a career as a super-model.

Ivanka's lateral move was 'designing' cut-rate fashion & oppressing Chinese sweatshop workers. Next challenge: accessorizing an orange jumpsuit. #MuellerTime

— The Mominatrixx (@TheMominatrixx) November 25, 2017
And you will be bringing your Chinese sweatshop to the states when? Or is your daughter learning Mandarin so she can take over when you go to jail?

— Lynne Legge (@LynneLegge) November 28, 2017
Jared is a slum lord, and most likely committed treason. Ivanka uses children and women for sweatshop labor, and paid off a DA to get out of charges. Her brothers committed treason with Russia and stole money from children with cancer. Where's the beauty?

— LikesScaryStuff (@LikesScaryStuff) November 24, 2017
@IvankaTrump Ivanka Stop trying to take credit for things you did not do. If you want credit for something good, why don't you pay the employees in your sweatshop double the lowly $60 a week they make, then pay to educate them. Be a real humanitarian instead of a fake one

— Waiting for Sanity (@KSibla) November 24, 2017
She should stop pretending she is anything other than a shoe peddling sweatshop owner who launders money anywhere and everywhere

Right @IvankaTrump?

— Pinche-Flynnished (@Pinche_Pi) November 28, 2017