External Affairs Minister Sushma Swaraj met US President Donald Trump's daughter and adviser Ivanka Trump on the sidelines of the United Nations General Assembly session in New York on Tuesday.
Miyan ki daud masjid tak, says India after Pakistan chooses to raise Kashmir at UN
Keeping in mind the upcoming Global Entrepreneurship Summit (GES), where Ivanka will be leading the American delegation, the two women discussed extensively about women's entrepreneurship.
India and the US will be jointly organising the GES in Hyderabad from November 28 to 30. The GES is the preeminent annual gathering of emerging entrepreneurs, investors, and business leaders from around the world.
The theme of the summit will be Women First, Prosperity for All, highlighting the critical role women play in fostering global growth and prosperity. The duo also discussed workforce development of the two nations.
Following the meeting, Ivanka took to Twitter to describe Swaraj as a charismatic Foreign Minister.
"I have long respected India's accomplished and charismatic Foreign Minister Sushma Swaraj, and it was an honor to meet her today," Ivanka wrote on Twitter.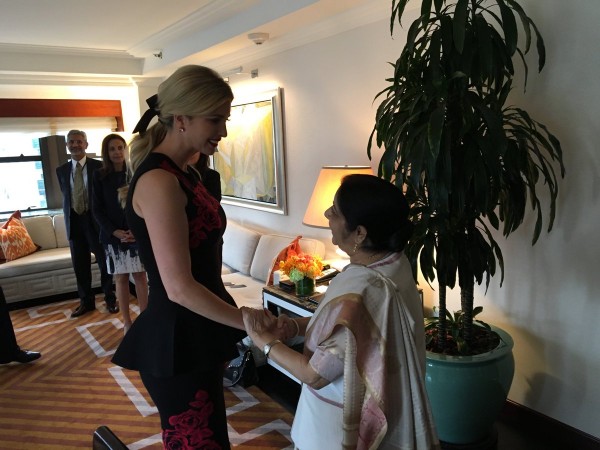 No bilateral meet with Pakistan
Though Swaraj is expected to hold about 20 bilateral and trilateral meetings with leaders attending the session, she won't be meeting her Pakistani counterpart Khawaja Muhammad Asif.
The possibility of a 'bilateral meet' was ruled out by India's envoy to the US, Syed Akbaruddin, during a press meet. Swaraj and Muhammad will, however, see each other during multilateral meets.
Meanwhile, Swaraj in a trilateral meet with her Japanese counterpart Taro Kono and US Secretary of State Rex W Tillerson discussed in details about Chian's actions in the South China Sea and the One Belt One Road project and concluded on the need to ensure freedom of navigation and respect for territorial integrity.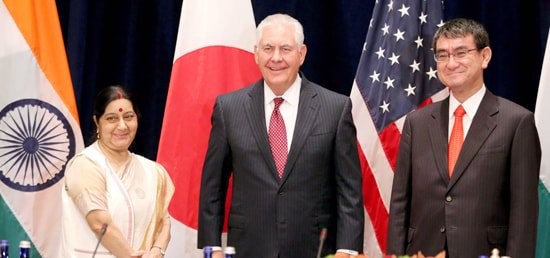 Interestingly, the EAM during a courtesy meeting with Bangladesh Prime Minister Sheikh Hasina did not bring up the issue of Rohingyas.