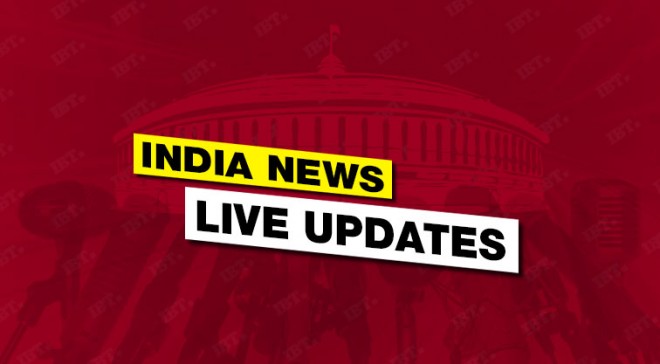 Read breaking news, live updates and much more from International Business Times India:
Jharkhand mine collapse: At least 4 workers dead, several others trapped inside Lalmatia coal mines
Pune bakery fire: At least 6 feared killed in blaze
UP Assembly Elections 2017: Father-son feud widens as Akhilesh releases separate list of 235 candidates hours after Mulayam releases his
Virat Kohli and Anushka Sharma rubbish reports of engagement
3:27 pm IST: DMK Treasurer MK Stalin has demanded a probe into former Tamil Nadu CM Jayalalithaa's death and also a sitting High Court judge to investigate the matter.
3:07 pm IST: The CBI is carrying out a search at Delhi Health Minister Satyendra Jain's office in Delhi.
2:49 pm IST: Separatist leader Yasin Malik (JKLF) has been detained by the Jammu and Kashmir Police in Pulwama after he tried to protest against refugees' domicile issue.
2:47 pm IST: The Patiala House Court has extended the judicial custody of SP Tyagi's cousin Sanjeev Tyagi and lawyer Gautam Khaitan for 14 days.
2:37 pm IST: Jewellery and bullion shops in Mumbai's Zaveri Bazar are being raided by IT officials.
2:07 pm IST: Rs 5 lakh in Rs 2000 denomination notes looted from a bank employee in Jharkhand's Giridih district.
2:04 pm IST: Sasikala Natarajan will formally take charge as General Secretary of AIADMK on Saturday morning at the AIADMK's head office in Chennai.
1:44 pm IST: The petition seeking bail for businessman Sekhar Reddy and his associates Srinivasalu and Prem Kumar, accused of illegal exchange of notes, has been dismissed by the Chennai CBI court. The petition by which CBI sought police custody for Reddy, Srinivasalu and Prem Kumar has also been dismissed by the court.
1:17 pm IST: Samajwadi Party Chief Mulayam Singh Yadav has called for a meeting of candidates, who will be contesting the UP Assembly elections, on December 31 at the party office in Lucknow.
1 pm IST: The Delhi High Court, at the request of the CBI, has issued a notice to former IAF chief SP Tyagi against bail given to him in the AgustaWestland case.
12:30 pm IST: The Supreme Court has dismissed a plea filed by a lawyers' body seeking stay on the appointment of Jagdish Singh Khehar as the next Chief Justice of India. The apex court has said that there is no question of Justice Khehar usurping power through NJAC judgment or being ineligible for appointment as CJI. There is no merit in the plea.
12:06 pm IST: Delhi Deputy Chief Minister Manish Sisodia's office was burgled on Friday. A computer and several documents were reportedly stolen.
11:40 am IST: Arunachal Pradesh: Takam Pario takes over as chief minister after Pema Khandu's ouster
Takam Pario took over on Friday as the Arunachal Pradesh chief minister after Pema Khandu was suspended on Thursday. Khandu and other MLAs were trying to merge the People's Party of Arunachal (PPA) with the Bharatiya Janata Party (BJP), according to PPA president Kahfa Bengia. Read more...
11:16 am IST: Indian Railways to increase RAC berths from January 2017
Rail passengers in India can look forward to better days (achche din) from next year when the new rules on reservation against cancellation (RAC) come into effect; bookings from January 16, 2017 to be precise. The world's fourth-largest rail network will enhance RAC seats in both sleeper class (SL) and air-conditioned (3AC,2AC) coaches. Read more...
11:09 am IST: Fire broke out at the SBI Life Insurance company in Nungambakkam, Chennai. Over six fire tenders are at the spot trying to douse the flames.
11:08 am IST: Cheteshwar Pujara talks about team bonding and inspirational Virat Kohli
Virat Kohli has led Team India brilliantly in the longer format of the game, as they enjoy an 18-match unbeaten streak. They have defeated some big team including Sri Lanka, South Africa, West Indies, New Zealand and England, which explains their stunning record of late with players contributing with both bat and ball. Read more...
11:05 am IST: Roof collapses after fire in Lucknow godown, several feared trapped
The roof of a godown collapsed in Lucknow in Uttar Pradesh after a fire broke out on Friday morning. Several labourers are feared trapped insidethe godown. Read more...
11 am IST: Make in India: Apple to commence assembling iPhones in Bengaluru from Q2 of 2017
American technology major Apple has reportedly selected Bengaluru to manufacture iPhones for the Indian market. Read more...
10:58 am IST: The Ministry of Home Affairs has extended the date of submission of application for registration as OCI cardholder by the erstwhile PIO cardholders till June 30, 2017.
10:55 am IST: 7 IIT-Madras websites hacked, defaced with pro-Pakistan messages
Days after the Thiruvananthapuram and Cochin airport websites were hacked, the IIT Madras' central library website and web pages of six departments were hacked on Thursday by unknown persons who posted "Pakistan Jindabad" messages. Read more...
10:43 am IST: Virat Kohli and Anushka Sharma have rubbished reports of engagement and said that they wouldn't hide if they were getting engaged.
10:37 am IST: Uttar Pradesh Chief Minister Akhilesh Yadav has called a Samajwadi Party's core-group meeting at his residence in Lucknow's Kalidas Marg. Both youth and senior leaders are expected to take part.
9:24 am IST: A 27-year-old man was arrested by the Jammu and Kashmir Police on Thursday for allegedly cheating many unemployed youths on the pretext of government jobs in the state's Udhampur district.
8:52 am IST: Pune bakery fire: At least 6 feared killed in blaze
At least six people were killed in their sleep after a fire broke out at a bakery in Pune early morning on Friday. Read more...
7:58 am IST: Prime Minister Narendra Modi will take part in Digi Dhan Mela in Delhi's Talkatora stadium. He is expected to launch the Aadhar pay and rebranded version of UPI and USSD.
7:20 am IST: Jharkhand mine collapse: At least 4 workers dead, several others trapped inside Lalmatia coal mines
At least four workers have lost their lives inside the Lalmatia coal mines after a heap of mud caved-in at the entry point of the mine run by the Eastern Coalfields Limited (ECL) situated in the Godda district of Jharkhand late Thursday night. Several others, along with some machinery that belongs to a private coal mining company, are feared trapped inside. Read more...