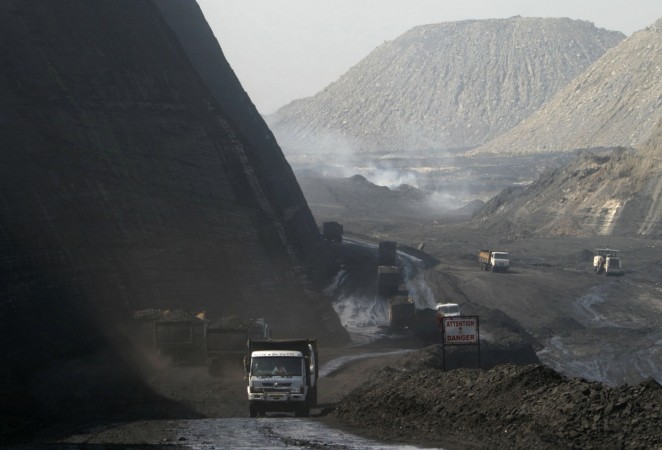 At least 12 workers have lost their lives inside the Lalmatia coal mines after a heap of mud caved-in at the entry point of the mine run by the Eastern Coalfields Limited (ECL) situated in the Godda district of Jharkhand late Thursday night. Several others, along with some machinery that belongs to a private coal mining company, are feared trapped inside.
Here are all the live updates:
2:06 pm IST: All 10 mining equipments have been extracted.
12:55 pm IST: "The company (ECL) has announced an ex-gratia compensation of Rs 5 lakh each to the family of the deceased, in addition to the amount to be paid under the Workmen's Compensation Act. All the necessary help to the families of the deceased is being extended by ECL. Two persons have met with injuries and treated in the Area Hospital. One of them has been sent to Durgapur for further treatment," a PIB release stated.
The release added that the mine could have collapsed due to "failure of the bench edge along the hidden fault line/slip."
"Prima facie, it is observed that the incidence is unprecedented, since an area of 300 m length by 110 m wide solid floor of the Over Burden dump area has slid down by about 35 m involving around 9.5 million cubic meters of earth material. This could be due to failure of the bench edge along the hidden fault line/slip," the release stated.
12:50 pm IST:
Jharkhand (Lalmatia) mine collapse: Enquiry ordered by the Director General of Mines Safety says Coal Ministry

— ANI (@ANI_news) December 30, 2016
Jharkhand (Lalmatia) mine collapse:High level committee of experts constituted by Coal India Ltd to investigate into causes of mine collapse — ANI (@ANI_news) December 30, 2016
12:15 pm IST: Death toll rises to seven. Rescue operations are underway.
11:55 am IST: Prime Minister Narendra Modi has expressed grief over the loss of lives in the mine collapse in Jharkhand and has also spoken to the state's Chief Minister Raghubir Das.
Saddened by the loss of lives at a mine in Jharkhand. My prayers are with those trapped inside. Spoke to CM Raghubar Das on the situation.

— Narendra Modi (@narendramodi) December 30, 2016
Jharkhand Government & Minister @PiyushGoyal are working to restore normalcy. @NDRFHQ has been engaged for rescue & relief operations. — Narendra Modi (@narendramodi) December 30, 2016
11:52 am IST: Jharkhand Chief Minister Raghubir Das has announced a compensation of Rs 2 lakh for the deceased and Rs 25,000 for the injured.
10:45 am IST:
Rescue teams have recovered 4 bodies till now, one more body visible; work underway:Rajiv Ranjan Mishra CMD ECL & WCL #JharkhandMineCollapse pic.twitter.com/ApcLklKSzJ

— ANI (@ANI_news) December 30, 2016
According to media reports, the on duty CISF sentry is safe but around 40 vehicles were inside the mine when the heap of mud caved-in at the Rajmahal Open Cast Mines of Paharia Bhorya site. Mining operations were being carried out about 200 feet beneath the ground. An inquiry into the incident has been initiated.
According to the locals, a crack in the heap of mud led to the collapse and blocked the entry point of the Lalmatia coal mine, News18 reported. Administration officials and the police rushed to the spot, while five NDRF teams — four from Patna and one from Ranchi — will reach by noon to carry out the rescue operations that could not begin earlier due to night fog. An official said that the electricity supply to the area was also disrupted.
However, chairman and managing Director of ECL and Western Coalfields Limited (WCL) Rajiv Ranjan Mishra told ANI that "rescue teams have recovered four bodies till now. One more body is visible. Work is underway." He added that power supply was restored within three hours and that "rescue operation started yesterday and is in full swing... Three excavators, seven dumpers were identified at the mining site where the incident took place. Two dumpers fled when land subsided. According to rules, one person is allowed per equipment and as two dumpers fled during incident, so the number of people trapped may be less than seven."
Three teams of NDRF personnel have been sent from Patna along with additional manpower comprising one government official, two inspectors, 21 CISF from Eastern Coal Field Limited, ANI reported. According to the police, the collapse took place during change of shift late in the evening.
Power and Coal Minister Piyush Goyal said: "(I am) taking stock of situation. Rescue efforts are underway. An inquiry has been initiated."
Jharkhand Chief Minister Raghubar Das is also monitoring the situation closely and has asked concerned officials to intensify rescue operations, ANI reported.
"The exact number of people and vehicle trapped inside is not known. This could only become clear after the rescue operation starts," Godda superintendent of police Harilal Chauhan told IANS.
Police sources told the Indian Express that rescue operations were proving to be difficult to initiate because the exact extent of damage is yet to be ascertained.
Jharkhand (Lalmatia) mine collapse: 40-50 workers feared trapped under the debris, rescue operations on. NDRF team from Patna on the way. pic.twitter.com/fYyK0XAhmI

— ANI (@ANI_news) December 30, 2016
Jharkhand (Lalmatia) mine collapse: 40-50 workers feared trapped under the debris, rescue operations on. NDRF team from Patna on the way. pic.twitter.com/E0q9MLdDuR — ANI (@ANI_news) December 30, 2016