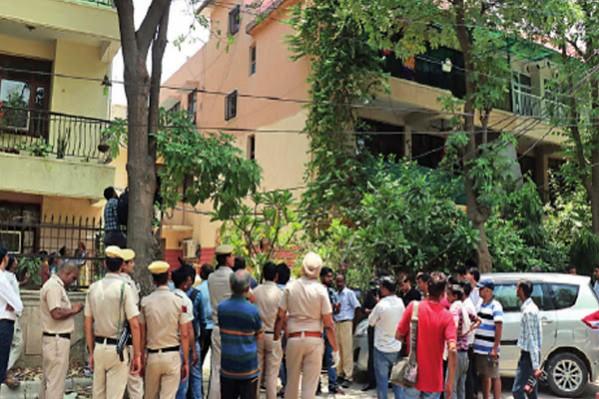 A 55-year-old former senior executive of Sun Pharmaceuticals reportedly killed his wife and two children before committing suicide at their residence in Gurugram on Monday, June 1. Prakash Singh was living with his wife Sonu, 48, daughter Aditi Prakash, 21, and son Aditya Prakash, 14, at Uppal Southend.
A suicide note was recovered from Singh's pocket, which said: "I am completely failed Taking I and my family along with me. I am completely responsible for this. No one else." He had recently lost his job.
The police are not ruling out the involvement of outsiders, although the content of the note indicates that Singh killed his family before hanging himself from the ceiling. Based on a complaint filed by Singh's sister, a case has also been registered under section 302 (murder) of the Indian Penal Code (IPC).
According to The Times of India, the forensic head of the Civil hospital, Dr Deepak Mathur, who conducted the family's post-mortem, said that they died between midnight and 2 am.
"Prakash's was suicidal hanging while his daughter, wife and son have multiple head injuries. They had deep cuts and they might have died within a few minutes of the attack," said Mathur.
He added that 12 marks were found on Aditi's body, eight on Aditya's head and 19 on Sonu's body, but mainly on the head. There was also a deep cut on the back of Sonu's neck.
"Singh may have tried to sedate the family before killing them since there were a lot of pills in the house. An initial autopsy showed signs of a struggle on the bodies of the two women and the boy," Aman Yadav, the Assistant Commissioner of Police (Sadar), was quoted by Hindustan Times.
Yadav added that a knife and a hammer were used in the crime and the analysis of the body samples was awaited to determine if the victims had been drugged.
The crime came to light when the family's maid came to work at around 7 am on Monday, but the door wasn't opened for her. She informed the neighbours who tried calling the mobile phone of Singh, Sonu and Aditi but the devices were switched off.
The police were informed and a team at the spot removed the iron grille of the apartment's bathroom window. The maid entered the house and found the floor covered in blood. The body of Sonu and Aditya were found on the floor while Aditi's was on the bed. Singh was found hanging by a nylon rope from a ceiling fan. The family's four dogs were found sitting next to the bodies.
Yadav said that the police investigation will focus on what prompted such action. According to the family's relatives and neighbours, Singh was depressed since he lost his job. The family's dogs have been taken in by the neighbours for now.