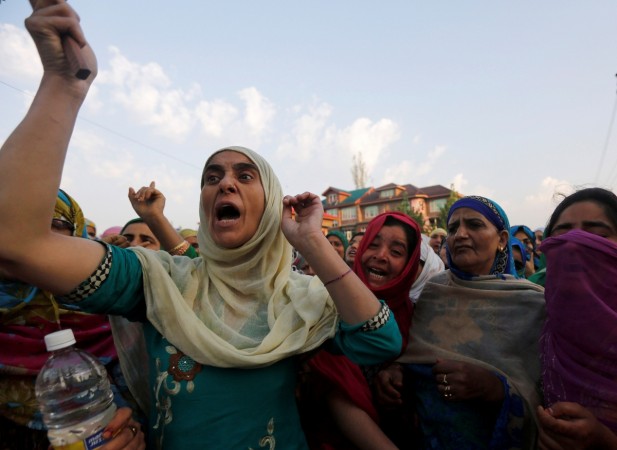 Here are some of the top stories from International Business Times, India, that have broken throughout the day so far:
1. J&K violence: 12-year-old dies in pellet firing; Curfew reimposed in Srinagar
A 12-year-old boy died after security personnel fired shotgun pellets and teargas at protesters in Srinagar on Friday evening, triggering anger among the locals and forcing the authorities to impose a curfew in the area.
Junaid Ahmad was critically wounded after he was hit by pellets outside his house in Saidpora in downtown Srinagar. According to the police, clashes in the area led to the security personnel firing pellet guns. They added that Ahmad was not a part of the protests. Read more...
2. India's Forex reserve hits new high
India's foreign exchange reserves increased $1.22 billion to hit a new historic high of $371.99 billion as of September 30, aided by a rise in foreign currency assets, according to data published by the Reserve Bank of India (RBI).
Foreign currency assets, which form the largest component of the foreign exchange reserves of the world's fastest-growing economy, rose $1.46 billion, the central bank's statistical supplement released on Friday said. Gold reserves fell $236 million to $21.40 billion. Read more...
3. Virat Kohli's 13th ton gives India good start against New Zealand
Virat Kohli is someone who revels in answering his critics by letting that magical bat of his do the talking. Under a little bit of pressure over his lack of scores in this Test series against New Zealand, the India captain scored a chanceless, brilliantly-compiled century – his first at home since February 2013 – to put his team in a real position of strength after day one of the third match in Indore. Read more...
4. Samsung Galaxy Note 7 catches fire, yet again
South-Korea based Samsung, which has of late been dogged by issues of Galaxy Note 7 flagship exploding, could now face yet another setback that could lead to it being forced to initiate another recall of the Galaxy Note 7 handsets.
Authorities in the US are said to be hard at work investigating the cause of a Samsung Galaxy Note 7 catching fire on a plane that was preparing to take-off from Louisville, Kentucky, in the United States of America. Authorities carried out evacuation in a timely manner, thereby preventing casualties. Read more...
5. Rolling Stones come back with a new album after 11 years
Iconic English rock band The Rolling Stones are getting back to their roots -- blues music -- and are coming up with a new studio album, 'Blue & Lonesome', scheduled for a December 2 release this year. This is Mick Jagger and Co's first album in 11 years, since their 2005-release 'A Bigger Bang'.
The upcoming album will feature Jagger, Keith Richards, Charlie Watts, and Ronnie Wood. It will also include the likes of Darryl Jones (bass) and Chuck Leavell and Matt Clifford (keys) make an entry as well. Read more...