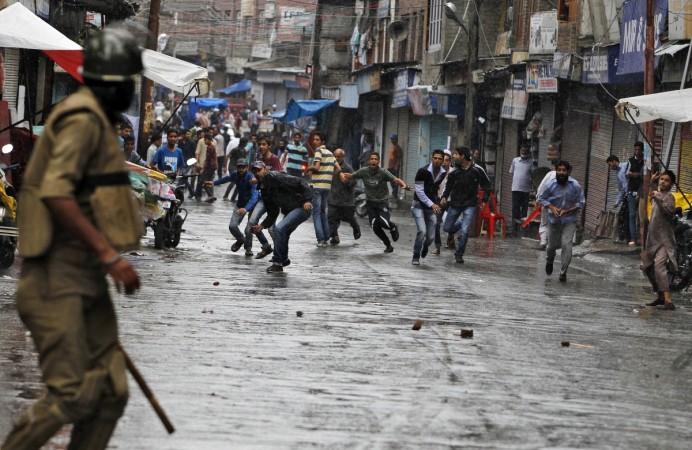 A 12-year-old boy died after security personnel fired shotgun pellets and teargas at protesters in Srinagar on Friday evening, triggering anger among the locals and forcing the authorities to impose a curfew in the area.
Junaid Ahmad was critically wounded after he was hit by pellets outside his house in Saidpora in downtown Srinagar. According to the police, clashes in the area led to the security personnel firing pellet guns. They added that Ahmad was not a part of the protests.
"He was standing at the main gate of his home in the Saidpora area in downtown area of city when he was hit by a volley of pellets," an official told NDTV.
Local citizens took Ahmad to Sher-i-Kashmir Institute of Medical Sciences where he died.
Hundreds of people protested against Ahmad's death after his body was brought home, shouting slogans like "Go India, go back" and "We want freedom" against the government while marching to the Martyr's Graveyard in Srinagar to bury Ahmad.
Security forces fired teargas shells and warning shots for fear of the procession becoming a large rally, which led to further clashes and men hurling rocks at the police. Many have been injured in the firing and locals have accused the police of trying to stop the funeral procession.
Over 90 people have been killed and 10,000 injured in clashes between security forces and protesters since the killing of Hizbul Mujahideen terrorist Burhan Wani by the armed forces in an encounter in July 2016. Schools, colleges and businesses remain shut as the curfew entered its 92nd day on Saturday.
Meanwhile, an Indian Amry soldier was wounded after Pakistan Army fired at Indian posts in the Poonch district of Jammu and Kashmir on Saturday.
The neighbouring country has violated ceasefire over 25 times since the Indian Army carried out surgical strikes on seven terror launch pads across the Line of Control killing two Pakistani soldiers and 38 terrorists.