Virat Kohli is someone who revels in answering his critics by letting that magical bat of his do the talking. Under a little bit of pressure over his lack of scores in this Test series against New Zealand, the India captain scored a chanceless, brilliantly-compiled century – his first at home since February 2013 – to put his team in a real position of strength after day one of the third match in Indore.
After winning the toss for the seventh consecutive time at home, Kohli decided to bat first, and that proved to be the right decision, after a couple of "ooh they could be in trouble here" moments.
From 100/3, when Cheteshwar Pujara failed to make full use of a start again, Kohli (103 n.o., 191b, 10x4) and Ajinkya Rahane (79 n.o., 172b, 9x4, 1x6) came together to put on an unbeaten 167-run partnership for the fourth wicket to take the wind out of the Kiwi sails. As a result of that partnership, India finished day one on 267 for three in 90 overs, a really good score on a wicket that isn't easy to play strokes on and will deteriorate sooner than most.
When that coin was tossed up by Kohli, it was almost inevitable that Williamson would call wrong, and with the pitch already showing up cracks on day one, the decision to bat first was an easy one for the India skipper.
Murali Vijay had said, before the start of the match, that the only day that this pitch would be good to bat on would be day one, and he looked in the mood for a few runs, playing a couple of gorgeous cover drives for boundaries.
Gautam Gambhir, making his return to the India team after two years, also started in strong fashion – his first three scoring shots were four, six and six, with both of those maximums coming off pull shots off short balls from Matt Henry. India raced to 26 in four overs as a result, and there was a feeling of "this is going to be a long day for the New Zealand bowlers" creeping in.
However, Williamson, such an underrated captain, realising the need for a change of pace, in more ways than one, brought on the off-spinner Jeetan Patel and the he duly struck. Vijay (10, 18b, 2x4) was unlucky as a flick off the inside half of his bat went straight to Tom Latham at short leg, with the fielder hanging on brilliantly after a couple of juggles.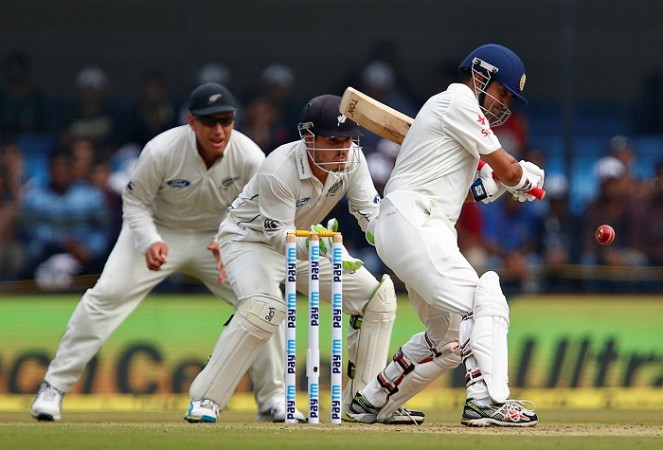 The pace of scoring slowed down considerably after that wicket, but even so, India looked in control, with Cheteshwar Pujara looking determined to make a big one. Gambhir was equally resolute, and it seemed like India were headed to Lunch in a strong position only for Trent Boult to skid a ball through and hit Gambhir (29, 53b, 3x4, 2x6) on the back pad right in front of off-stump.
Kohli (7, 14b, 1x4) came in and got his eye in, while making sure India would not lose anymore wickets as the home team went into Lunch on 75 for two in 26 overs.
Pujara and Kohli would have envisaged scoring a few more runs, hoping the pitch would ease up as the ball got older, but the Kiwis did a brilliant job of plugging the runs. On top of that, the spinners Patel and Mitchell Santner came into play as well and it soon became a battle of attrition.
One of those mini battles was won by Santner, who produced the magic left-arm spinner's delivery to dismiss Pujara (41, 108b, 6x4). The batsman could not decide on whether to go back or forward to the delivery, got caught in the crease, played the angle of the ball, but once it pitched, it just turned enough to beat the outside edge and clip off-stump.
It was beautiful bowling from Santner, and the only regret that New Zealand will have is that they could not pick up a few more before Tea.
Kohli always looked good in the middle, but Rahane's stay at the crease was a proper battle. There were a couple of plays and misses, a ball that jumped off his arm guard, a pull shot that just fell short of the man in the deep, an edge that fell a touch short of first slip and more, but to his credit, he hung in there, and despite more struggles with the short ball in the final session, refused to give his wicket away.
From 148/3 at Tea, India upped the run rate a little, with a fair few of those runs coming when New Zealand took the new ball in over number 81. It was during that spell as well that Kohli got his hundred, a one-day drop and run, which gave the large crowd at the Holkar Stadium, hosting a Test match for the first time, another reason to celebrate a wonderful day of cricket.
Fall of wickets: India: 26/1, Murali Vijay (4.5 overs); 60/2, Gautam Gambhir (19.5 overs); 100/3, Cheteshwar Pujara (36 overs).
Bowling: New Zealand: Trent Boult 16-2-54-1; Matt Henry 20-3-65-0; Jeetan Patel 24-3-65-1; Mitchell Santner 19-3-53-1; Jimmy Neesham 11-1-27-0.
Session scoring: First session: 75/2 in 26 overs. Second session: 73/1 in 30 overs. Third session: 119/0 in 34 overs.