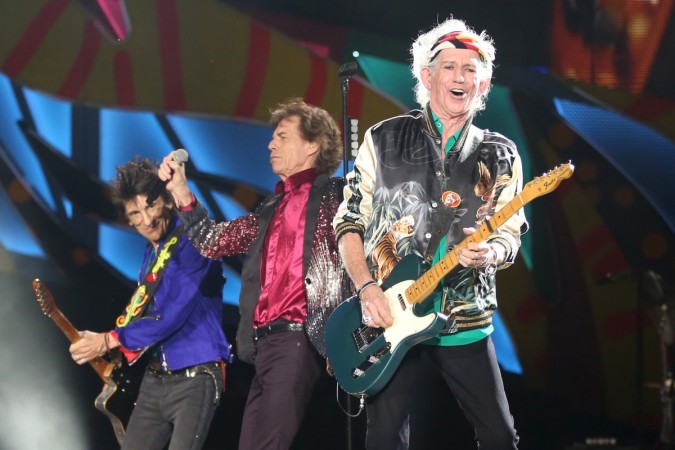 Iconic English rock band The Rolling Stones are getting back to their roots -- blues music -- and are coming up with a new studio album, 'Blue & Lonesome', scheduled for a December 2 release this year. This is Mick Jagger and Co's first album in 11 years, since their 2005-release 'A Bigger Bang'.
At least 25 music albums over 50 years - that's Rolling Stones for you. In the upcoming album, Jagger, Keith Richards, Charlie Watts, and Ronnie Wood will be the prominent figures as usual, while the likes of Darryl Jones (bass) and Chuck Leavell and Matt Clifford (keys) make an entry as well.
Eric Clapton, of Tears in Heaven fame, and legendary percussionist Jim Keltner, also feature as guest artists in the album, which are basically covers of iconic numbers.
Majority of the tracks in the album are a tribute to legendary Blues musician Little Walter, who originally wrote and performed the song Blue & Lonesome in 1959.
The Rolling Stones are currently performing in the 'Desert Trip' music festival in Indio, California, where they are sharing the stage with legendary musicians Paul McCartney, Bob Dylan, the Who, Roger Waters and Neil Young.
Complete track list of Blue & Lonesome by The Rolling Stones
Just Your Fool
Recorded in 1960 by Little Walter
Commit A Crime
Recorded in 1966 by Howlin' Wolf – Chester Burnett
Blue And Lonesome
Recorded in 1959 by Little Walter
All Of Your Love
Recorded in 1967 by Magic Sam – Samuel Maghett
I Gotta Go
Recorded in 1955 by Little Walter
Everybody Knows About My Good Thing
Recorded in 1971 by Little Johnny Taylor, composed by Miles Grayson & Lermon Horton
Guest artist in track: Eric Clapton
Ride 'Em On Down
Recorded in 1955 by Eddie Taylor
Hate To See You Go
Recorded in 1955 by Little Walter
Hoo Doo Blues
Recorded in 1958 by Lightnin' Slim, composed by Otis Hicks & Jerry West
Guest artist in track: Jim Keltner.
Little Rain
Recorded in 1957 by Jimmy Reed, composed by Ewart.G.Abner Jr. and Jimmy Reed
Just Like I Treat You
Written by Willie Dixon and recorded by Howlin' Wolf in December 1961
I Can't Quit You Baby
Written by Willie Dixon and recorded by Otis Rush in 1956
Guest artist in track: Eric Clapton