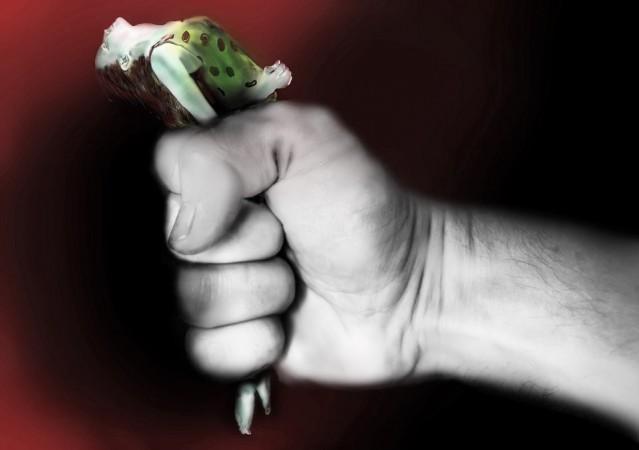 In a horrifying incident, a young girl was brutally murdered in broad daylight by her alleged stalker in Hyderabad, Telangana on Monday, May 28.
The victim has been identified as 19-year-old Venkata Laxmi. She was working at a jewelry store when the accused, 24-year-old Sagar walked into the store in the afternoon. He is said to have slit her throat with a blade as he was reportedly upset with Laxmi for rejecting his proposal, The New Indian Express reported.
It all started when Laxmi, who previously worked as a maid, befriended Sagar a driver from Madhura Nagar area. As both of them became friends, Sagar proposed her for marriage. Laxmi, however, declined his proposal following which he started harassing her.
The 19-year-old later joined a jewelry store as a salesgirl as she unable to bear the harassment. She had reportedly even complained to her manager at the jewelry store that Sagar was harassing her.
On the day of the incident at around 2.30 pm, Sagar entered the store with a blade and had a heated argument with Laxmi for over two hours. The enraged assailant slit her throat and later fled the spot, the daily reported.
Laxmi was alone at the shop as the owner of the jewelry store was out of town. At the time of the murder, Laxmi was managing the entire store all by herself.
"The shop owner could access CCTV feed on her phone. She noticed that the cameras were off and when Venkata Lakshmi did not answer the phone for a long time, she requested the victim's father to visit the shop," Jubilee Hills inspector P Chandra Sekhar was quoted as saying by The News Minute.
When her father reached the spot, he saw Laxmi lying in a pool of blood following which he alerted the Jubilee Hills police. The police reached the spot and later registered a case. They have retrieved the video footage from the CCTV camera installed in the shop.
"The accused used a blade to slit the girl's throat. The girl died on the spot. The clues team collected the CCTV footage installed in the shop and also found some fingerprints in the shop. We are verifying into the allegations (sic) of the victim's mother and the investigation is on," West Zone DCP A R Srinivas told TNIE.
The victim's mother also suspected Sagar of committing the murder. "We are suspecting Sagar behind the murder of my daughter. He has been harassing her for the last one year. Due to the harassment, she stopped working at Banjara Hills and joined the jewelry store for Rs 3,000 salary, as it is closer to our house."