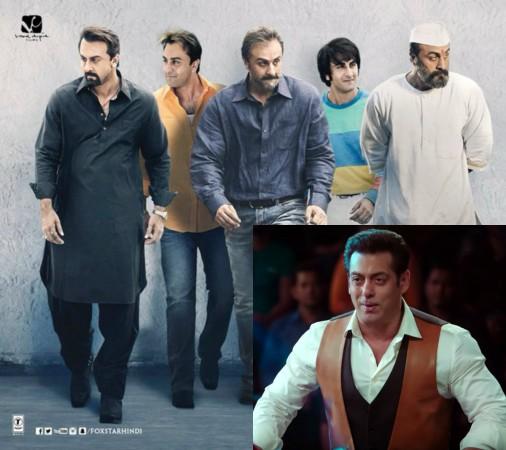 Sanjay Dutt's biopic starring Ranbir Kapoor set cash registers ringing at the box office with its release on June 29. With a star cast featuring some of the biggest names playing roles of veteran names in the industry, the movie has naturally caught the attention of many.
Critics and the audience have been raving about the film and praising the directorial of Rajkumar Hirani and Ranbir's portrayal of the controversial actor.
The movie also marks the comeback of Bollywood diva Dia Mirza to the big screen after a gap of seven years. She plays the role of Sanjay Dutt's wife Maanayata Dutt in the biopic. In an interview with Mumbai Mirror, the actress spoke about her experience of portraying a character based on a real person.
When you play a real person, the single-minded focus is to feel and empathize with what the person has experienced in certain circumstances. For me, the most important thing was to understand what it meant to be her – Sanjay Dutt's wife and mother of his children. What does it mean to be a woman in that situation?
Dia also revealed that although she had worked with Sanjay Dutt in the past, the script of Sanju was shocking to her, and broadened her perception of her co-stars.
When I first heard the script, I was laughing and crying at the same time. It got me thinking that as co-actors, we think we know so much about the people we work with, but the truth is we know so little. The film explores the intimate truth of his life.

Despite all the circumstances — the harsh realities of life he has seen, he is so childlike. To be able to have that, after all he has gone through is extraordinary.
The actress also talked about Sanjay Dutt portraying himself in the film, which was a comment that Salman Khan had made earlier during a media interaction.
"How could he play his character, it would be awkward right? Imagine Sanjay Dutt as Sanjay Dutt - it's strange. I don't think anyone can play themselves in a story that is made on them," said Dia.
Salman had said that Ranbir Kapoor was not doing justice to Sanjay Dutt's role and that nobody can be like Sanjay but Sanjay himself.
Dia also spoke about the hard work put in by Ranbir Kapoor to do justice to a character based on a personality like Sanjay Dutt, adding that she was quite impressed with his professional capabilities.
Ranbir, as an actor, has been preparing for this part his whole life. He has always been a huge Sanjay Dutt fan. When I first saw his look test for the film, I was blown away. I couldn't believe how he just transformed and become Sanjay Dutt.
Sanju also stars Anushka Sharma, Manisha Koirala, Paresh Rawal, Vicky Kaushal and others. The film has beat Salman's Race 3 record by becoming the biggest opener of 2018. Sanju has collected Rs 33 crore net at the Indian box office on the first day. The film has also beaten the records of PK (Rs 26.63 crore) and Besharam (Rs 21.56 crore) to become the biggest opener for Rajkumar Hirani and Ranbir Kapoor, respectively.