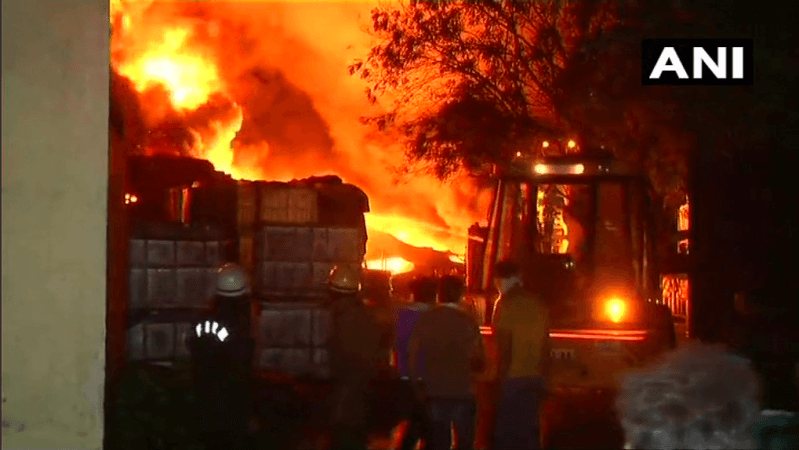 The major fire that engulfed a godown in south Delhi's Malviya Nagar area on Tuesday, May 29, evening, is still raging and has been labelled as "highest category." About 70 fire engines and the Indian Air Force are toiling to douse the flames and authorities believe that it may take a few more hours to completely bring the blaze under control.
The fire started on a truck in Malviya Nagar, but spread to a nearby five-storey rubber godown around 5 pm on Tuesday, and fire tenders were rushed to the spot after residents of the area saw smoke billowing from the godown and called the fire department.
The thick smoke was reportedly visible even from areas such as Greater Kailash and Nehru Place, which is about five kilometres away.
No casualties have been reported yet, but a firefighter has reportedly been injured and residents living close to the rubber godown have been evacuated. Losses caused by the fire have been pegged at about Rs 5 crore.

While fire tenders have already been hard at work for about 15 hours now, Delhi Disaster Management Authority (DDMA) also sought the help of the Indian Air Force. In tune, IAF choppers were seen providing assistance early Wednesday, May 30, morning, reported ANI.
The area has been cordoned off and a school nearby also remains closed.
Speaking of the fire, Aam Aadmi Party legislator Saurabh Bhardwaj told NDTV that there are several illegal godowns and factories in the area and these must be removed, failing which the city may witness more such incidents in the future. He also said that the local AAP councillor had complained to south Delhi municipal officials on the matter but no steps were taken to remove these illegal godowns.
Meanwhile, the police said that a legal action would be taken. "FIR will be lodged & investigation will be done," DCP south Romil Baniya told ANI.
Meanwhile, fire chief GC Mishra explained that the department is pulling all stops to control and douse the blaze. "Our primary aim was to contain the blaze within the collapsed structure so that it does not spread to the residential areas around the factory. Several teams are working non-stop. The building had no fire safety measures," the Times of India quoted fire chief G C Mishra as saying.
Locals speak of the fire
A few locals described the blaze and said several structures were razed to the ground. "I was in office when my uncle asked me to rush home. We grabbed whatever we could and ran out. The house must have been badly damaged," Mandira, one of the residents, told TOI. Her family was asked to evacuate as the fire continued spreading overnight.
"We were not aware of such an industry running in this congested, residential area. We will approach the civic bodies to seal it," Rakesh Kumar, another resident, added.