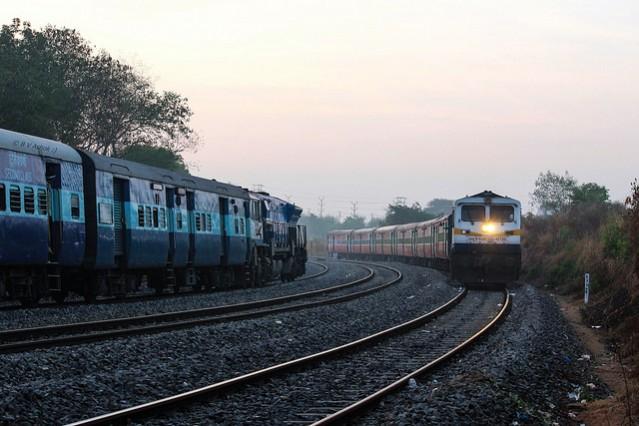 In a freak accident, the assistant driver of a train died Sunday, May 6, after falling off the engine that caught fire. The locomotive of the Mumbai-bound 12810 Howrah-Mumbai Chhatrapati Shivaji Maharaj Terminus (CSMT) Mail reportedly caught fire between Talni and Dhamangaon in Nagpur and the assistant driver was inspecting the cause of the fire when he fell off.
The victim has been identified as SK Vishwakarma, a 32-year-old native of Gaya in Bihar, reported the Indian Express.
Railways officials confirmed the incident and said that it took place around 5 pm Sunday when the train's driver B L Brahme noticed smoke in the engine.
"While fire extinguisher was used to douse the fire, Vishwakarma who was observing the smoke as per procedure fell down from the train," the IE quoted them as saying. He was then rushed to a nearby hospital.
"The train was running at more than 100 kilometres per hour. While protocol calls for the assistant loco pilot to lean out of the train and find the cause of smoke, he would have leaned too far. Brahme also received minor injuries and was taken to a civil hospital near Dhamangaon. He is stable," a senior official added.
Speaking of the fire in the engine, the official said that a major mishap was averted due to Brahme's quick thinking. No passengers were injured. A delay in halting the train could have caused a major fire in the locomotive, thus affecting the train.
While a few officials believe that Vishwakarma may have hit a pole when he was leaning out of the train, others have said that he could have been thrown out. They explained that when Vishwakarma was trying to check the fire, there was a blast in the transformer and he was thrown out on impact, reported the Times of India.
After the incident, the engine of the 12810 Howrah-Mumbai Chhatrapati Shivaji Maharaj Terminus Mail was replaced and the train continued its journey. The affected engine has now been sealed and a probe is under way. The exact cause of the fire isn't known as of now and will be ascertained only after an inquiry by the safety and electrical department.
"Our officers are at the spot to investigate what happened. We have called an inquiry," Somesh Kumar, Divisional Railway Manager, Nagpur explained.