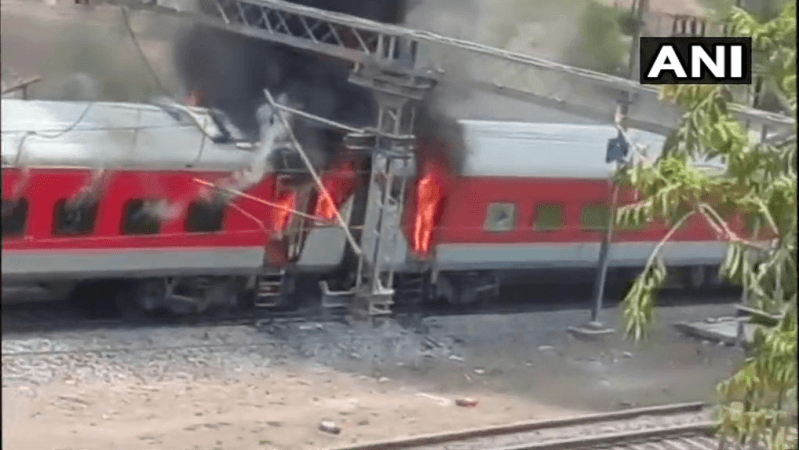 Four coaches of the Andhra Pradesh AC Express were engulfed in fire near Gwalior, Madhya Pradesh, Monday, May 21. The train caught fire when it was en-route to Vizag from New Delhi. No casualties have been reported yet and the blaze has reportedly been brought under control.
Fire tenders have been rushed to the spot and rescue operation is under way. While the exact cause of the fire is yet to be ascertained, it is being said that the blaze could be due to faulty air conditioners, reported Times Now.
All the passengers of the train are safe and were reportedly moved to other coaches as soon as the blaze was noticed. "Train no. 22416, New Delhi - Visakhapattanam express, fire in B-7 coach reported at Birla Nagar Station near Gwalior, fire spread in B-6 and B-5 coach also," an official statement said.
It was earlier said that the train was the Rajdhani Express, but it was later clarified that it was, in fact, the Andhra Pradesh Express.
The train had left the Hazrat Nizamuddin station this morning and was halted about two kilometers away from Gwalior due to the fire. The affected coaches have now been removed and new coaches have been provided so that passengers can be accommodated. The train will soon continue its journey, according to India TV.
The incident comes days after an assistant locomotive driver lost his life when the engine of the Mumbai-bound 12810 Howrah-Mumbai Chhatrapati Shivaji Maharaj Terminus (CSMT) Mail reportedly caught fire between Talni and Dhamangaon in Nagpur. The man was said to be inspecting the fire when he fell off the engine and died.
The victim was identified as SK Vishwakarma, a 32-year-old native of Gaya in Bihar, reported the Indian Express.
Railways officials confirmed the incident and said that it took place around 5 pm May 6, when the train's driver B L Brahme noticed smoke in the engine.
"While fire extinguisher was used to douse the fire, Vishwakarma who was observing the smoke as per procedure fell down from the train," the IE quoted them as saying. He was then rushed to a nearby hospital.
"The train was running at more than 100 kilometres per hour. While protocol calls for the assistant loco pilot to lean out of the train and find the cause of smoke, he would have leaned too far. Brahme also received minor injuries and was taken to a civil hospital near Dhamangaon. He is stable," a senior official added.