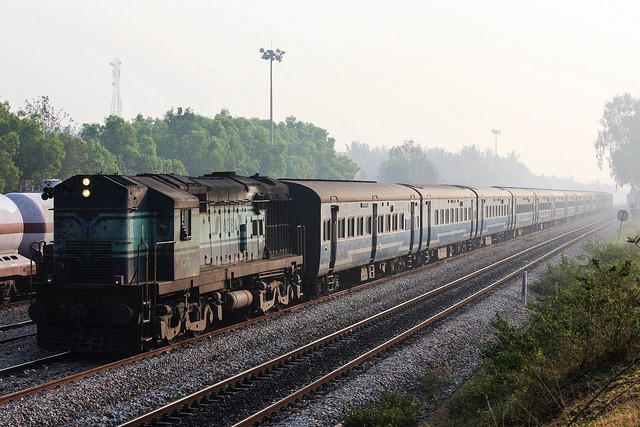 There are a lot of times when we can't help but wonder how thieves and robbers come up with amazingly creative ideas to ply their trade. And another incident that has left us surprised is a gang in Greater Noida claiming that its members rob train passengers with the help of two-rupee coins.
Two members of the gang revealed that they use two-rupee coins to jam the joints on railways tracks. This leads to the signal turning red, due to which the train is forced to stop. That is when the gang gets into the train and robs its passengers at gunpoint.
The process came to light when police arrested Rajan Kumar and Dinesh Kumar, both residents of Jahangirabad in Bulandshahr, who are suspected to be a part of a four-member gang that is known to rob passengers in the rural areas of Greater Noida, Dadri and Bulandshahr. The police have been looking for the suspects for a while now and zeroed in on the gang when Rajan was caught on CCTV camera jamming the joints on the railway tracks, reported the Times of India.
Amit Kumar Shrivastava, circle officer, Greater Noida I, said that they had decided to install CCTV cameras after receiving numerous complaints of robbery and snatching on trains. "On October 26 night, one camera captured Rajan Kumar near the tracks. He was seen talking on phone and swiftly planting two coins in a joint of the railway track. He was also carrying a country-made revolver," he told TOI.
Rajan and Dinesh have now admitted that they have robbed six trains so far, but said that they did not know how their procedure affected the signal. They said that they continued with it as it has worked every time they tried.
However, a spokesperson for the Northern Railways explained that the systems aren't so weak that they could be manipulated with just coins. He also said that there is a possibility that the gang could have tampered wires to change the signals and the same is now being investigated.
Other two gang members Sumit and Robin are said to be absconding.
Meanwhile, this is not the first time that a coin has been used to stop a train. In April 2017, criminals used a one rupee coin in the same way to stop the New Delhi-Patna Rajdhani Express and looted valuables worth lakhs.