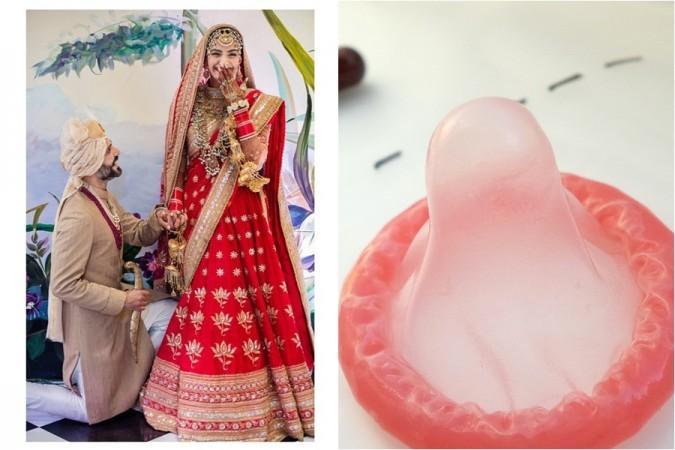 Sonam Kapoor and Anand Ahuja got married in a grand Punjabi wedding on May 8. It was attended by the who's who of Bollywood. Those who couldn't make it up for the big fat wedding, like Anushka Sharma, Deepika Padukone and Priyanka Chopra, took to Twitter to wish the newlyweds. But it was the condom brand Durex that left the Twitter users in splits for the way they wished the couple.
The condom brand, just a day after the wedding, congratulated Sonam Kapoor and Anand Ahuja with a quirky caption which reads, "We've got you covered."
Twitter users went berserk after they came across the condom brand's tweet and started showcasing their own creativity while replying to the naughty wish.
"What if they are pregnant before you got them covered?" a Twitter user asked in a comment while another user said, "You missed to cover them at right time that's why they are hitched now."
One Twitter user tried to mock Sonam Kapoor's act of holding a placard in her hands and replied to the condom brand, "You should have used placard."
While another user mocked the condom brand for trying to promote their product while wishing the newlyweds. "Technically, you've only got anand covered. Infact sonam has got you covered," the user wrote.
This is not the first time the condom brand tried to cash in on to promote their contraceptive product. Earlier, when Virat Kohli and Anushka Sharma got married on December 11 in Italy, they congratulated the power couple with a tweet that read: "Congratulations Anushka and Virat. Let's nothing come between you except Durex" combining it with a caption, "Finally, Virat Kohli bowled his maiden over."
Sonam Kapoor recently posted a thank you note on Instagram to all those who made her wedding into something magical. She wrote, "Anand & I would like to thank everyone who made our wedding the most magical 2 days of our lives. We would like to take a moment to thank each and every one of you who made this day special & here's a few people who deserve a special mention."
She also took a moment to thank her family members including her dad Anil Kapoor, mom Sunita Kapoor, brother Harshvardhan Kapoor, sister Rhea Kapoor and others for making her wedding happen in a spectacular fashion.
Sonam will now be flying off to the ongoing Cannes film festival where she will be walking the red carpet showcasing her different looks at the prestigious event.
Later, she will kick-start the promotional activities of her upcoming film Veere Di Wedding which also stars Kareena Kapoor, Swara Bhasker, Shikha Talsania, Sumeet Vyas and others.