Varun Dhawan and girlfriend Natasha Dalal chose Sonam Kapoor and Anand Ahuja's wedding reception to make their relationship official. The lovebirds arrived hand-in-hand at the dance and musical party in traditional attires and pulled all the media attention towards them. The actor also took to Instagram to share a warm selfie with his girlfriend while wishing her a happy birthday.
The October actor has always refrained from talking about his relationship with Natasha Dalal but also did not hide the fact he was completely into her. He has been dating his childhood friend for the last few years and if reports are to be believed, the lovebirds have decided to get married by the end of this year.
When he was asked recently why was it so hard to talk about your relationship, Varun told CNN-News18, "I feel like it takes away my personal life and that is the only reason I don't talk about it. Because then (whether) you are in or not in (a relationship), they are going write something here and write something there."
He also accepted the fact that the constant media attention makes Natasha quite uncomfortable and feels it is his job to protect her.
"Yeah, she is a normal girl. She is a normal kid and she wants to just live a normal life and it's my job to protect her," Varun said.
Asked if it is hard to conduct a normal relationship when you are an actor, he said: "I think it is too hard to have a relationship in general in 2018, but I think that if you want to be in it and are in the right phase of life then you can do it... The main thing in life is that you're happy and you don't have to prove anything to anybody. That's why I don't talk about it."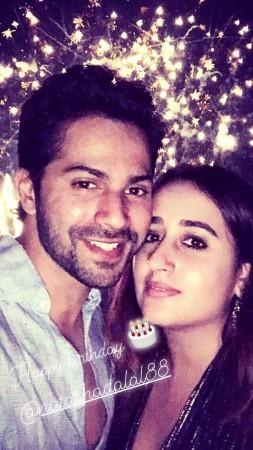 Varun also opened up on his marriage plans.
"I am not someone who just wants to be not married. I believe in the institution and I don't think there should be an age and date for this, but there should be a feeling that it is the right time and when you feel it then get married."
And after making a public appearance together, it looks like Varun and Natasha are ready to take the plunge soon.