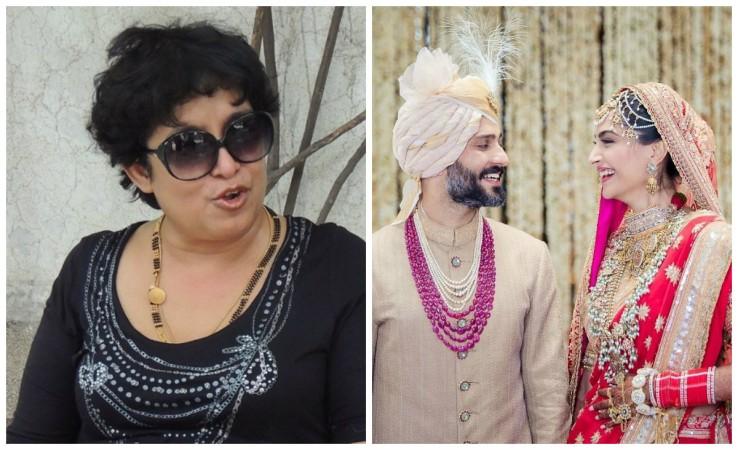 Sonam Kapoor changed her name on Twitter to Ahuja after marrying her longtime boyfriend Anand Ahuja. Her profile name now reads Sonam K Ahuja. However, well-known author and feminist Taslima Nasreen did not like it and took a dig at it while calling the film industry people of being patriarchal and superstitious in nature.
Sonam and Anand hosted a grand wedding and reception party on Tuesday. It was a star-studded affair, and the couple looked happy together.
Many feminists and progressive thinkers consider wife changing her surname to her husband's a sign of patriarchy. Taslima pointed out it for the very same reason.
The writer on Twitter questioned if Sonam's husband Anand would add "Kapoor" to his surname. She wrote that these actresses may wear modern clothes, but they are not modern in their thoughts.
"After marrying Anand Ahuja,Sonam Kapoor changed her name to Sonam Kapoor-Ahuja.Will Anand Ahuja change his name to Anand Ahuja-Kapoor?They may wear modern dresses,utter modern dialogues on screen,in real life most film industry ppl r not modern.Believe in patriarchy&superstitions [sic]," she tweeted.
This tweet from Taslima received a mixed reaction from people. While some supported her views, many others slammed the writer saying that it's a matter of personal choice, and she shouldn't have any problem with that.
Nonetheless, it will be interesting to see what Sonam, who calls herself a feminist, has to say about Taslima's remarks.
Meanwhile, social media is flooded with pictures and videos of several stars dancing at Sonam's lavish reception. Celebrities like Salman Khan, Shah Rukh Khan, Ranveer Singh, Anil Kapoor, Arjun Kapoor and many others had set the stage on fire with their performances.
The newlyweds were also seen shaking a leg on their special day. It was an electrifying environment and one of the most flamboyant Bollywood weddings in the recent times.