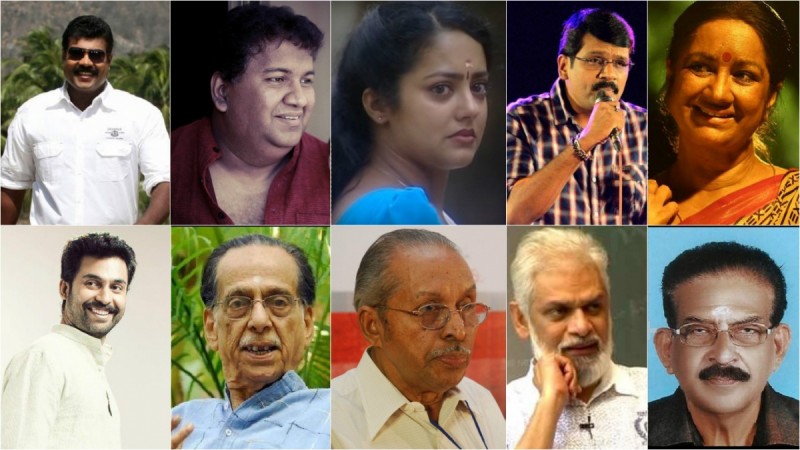 The year 2016 has been extremely good for Mollywood with the industry witnessing several back-to-back blockbusters. But, it has also been a year which saw many eminent personalities leaving us.
The list includes the untimely demise of actors Kalpana, Kalabhavan Mani, Jishnu Raghavan, Rekha Mohan, director Rajesh Pillai, among many others.
Here is the list of Mollywood celebrities who passed away in 2016:
The year 2016 started shocking the audience of Malayalam movies with the death of versatile actress Kalpana, who died on January 25. The South Indian actress was found unconscious at Ebony Hotel in Hyderabad, where she was shooting for director Vamsi Paidipally's bilingual movie Oopiri. The actress is said to have suffered a heart attack. The mortal remains of Kalpana were cremated at Thrippunithura Municipal Crematory, where many celebs and fans paid tribute to the actress. Also check: celebs pay homage to Kalpana
Due to age-related illness, veteran Malayalam actor Kollam G Krishna Pillai breathed his last at his residence in Chavara on January 29. The 81-year-old actor was cremated at Mulamkadakam cemetery in Kollam.
Malayalam journalist TN Gopakumar passed away at the age of 58 at a private hospital in Thiruvananthapuram on January 30. The veteran media person, who rose to fame with weekly programme Kannadi on Asianet, was undergoing cancer treatment for a long time.
Late musician Johnson Master's daughter Shan Johnson was found dead at a hotel in Chennai on February 5. The 29-year-old musician, who also used to work as a marketing head at City Centre Mall in Chennai, is believed to have suffered a cardiac arrest. The funeral ceremony that took place at St Sebastian's Church in Nellikunnu was attended by many celebrities of Malayalam industry.
Popular Malayalam lyricist ONV Kurup passed away at the age of 84 due to age-related ailments at a private hospital in Thiruvananthapuram on February 13. He Jnanpith Award winner was cremated at the state-run Santhi Kavadam crematorium with full state honours.
Popular music director Rajamani passed away on February 14 at the age of 60. The Kerala State Film Award winner is said to have complained of uneasiness, after which he was rushed to the hospital, where he was declared dead.
Cinematographer Anandakuttan, 61, also breathed his last on February 14 after his prolonged battle against cancer.
Malayalam writer Akbar Kakkattil breathed his last at a private hospital in Kozhikode on February 17. The 62-year-old two-time Kerala Sahitya Akademi award winner was undergoing treatment for lung cancer for more than a year before his death.
Rajesh Raman Pillai was just four-movies old, but the filmmaker rose to fame for helming Malayalam movie Traffic that was later remade in Hindi. However, a day after his psychological thriller Vettah was released, he passed away at PVS Memorial Hospital in Kochi. The 41-year-old was hospitalised as he was suffering from non-alcoholic liver cirrhosis.
Malayalam director Mohanroop was found dead at his house in Thrissur's Mission Quarters on March 1. He was 56.
It was noted actor Kalabhavan Mani's demise that shocked the entire South Indian film industry on March 6. Though he was undergoing treatment for liver-related ailments at a private hospital in Kochi, the mystery behind the death of the 45-year-old actor is still unresolved. Mani, who began his career as a mimicry artiste, is known for his humour, character roles and popularised folk songs among the audience.
On March 8, director Saji Paravoor aka Sanjeev NR, 48, who helmed Suresh Gopi and Mohanlal-starrer Janakan, died at KIMS Hospital in Thiruvananthapuram. He was admitted there following a stroke.
Young Malayalam actor Jishnu Raghavan breathed his last at Amrita Hospital in Kochi on March 25 after his prolonged battle with cancer.
Malayalam singer Manoj Krishnan passed away on May 4 at PVS Memorial Hospital in Kochi. The hospital authorities had informed International Business Times, India that the singer suffered a cardiopulmonary arrest after he was admitted on April 30 for liver cirrhosis (CLD with hepatic encephalopathy) treatment.
R Govinda Pillai aka Kochaniyan
Malayalam film and television actor R Govinda Pillai aka Kochaniyan died at the age of 72 at a private hospital in Kollam on April 17. He was undergoing cancer treatment for quite some time.
Malayalam mimicry artiste Subhash Kollam, who was known for imitating former Defence Minister AK Antony, Sri Lankan cricketer Sanath Jayasurya and late versatile actor Kalabhavan Mani, died in Kochi on June 15 following a cardiac arrest.
Popular dramatist, poet and theatre director Kavalam Narayana Panicker, 88, passed away at his residence in Thiruvananthapuram due to age-related ailments on June 26.
Malayalam director Sasi Shanker (also spelled Sasi Shankar or Sasi Sankar) of Kunjikoonan-fame died on August 10. The filmmaker was found unconscious at his residence near Pancode, Kolenchery and was declared dead at a nearby hospital.
Malayalam mimicry artiste and actor Sagar Shiyas breathed his last at a private hospital in Chottanikkara on August 11. The 50-year-old comedian was undergoing liver-related treatment at the time of his demise.
Script writer TA Razaq (also spelled Rasaq and Razzaq), 58, passed away on August 15 at a private hospital in Kochi. He was undergoing liver treatment. His mortal remains were buried at Juma Masjid in Kondotty.
Malayalam actress Rekha Mohan, who is known for sharing screen space with Mammootty in Udyanapalakan, was found dead under mysterious circumstances leaning on the dining table at her house in Thrissur on November 12. The incident came to light after Rekha's husband, who was abroad, reportedly requested the security personnel to check their apartment as he was unable to contact her.
Malayalam television and film actor KN Jagannadha Varma passed away on December 20 at the age 77. He was admitted at a private hospital in Thiruvananthapuram due to pneumonia.
Other Mollywood celebrities who passed away in 2016 include actors VD Rajappan, Sudhakaran, Mannar Radhakrishan, Vakkom Mohan, Jyothi Lakshmi, Sreelatha Menon, producers MO Joseph, Ajay Krishnan, directors VR Gopalakrishnan, Nandan Kavil, scriptwriters Mani Shornur, Mathew Mattam, lyricist Babu Bharadwaj and singer M Balamuralikrishna.