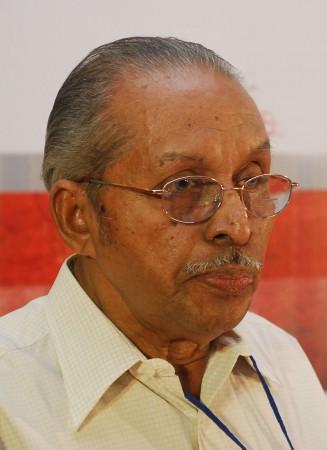 Lyricist ONV Kurup, who had penned many songs and poems in Malayalam, died Saturday, Feb. 13, due to age-related ailments. He breathed his last at a private hospital in Thiruvananthapuram. He was 84.
The last rites of ONV will be held at the state-run Santhi Kavadam crematorium on Monday with full state honours.
He was bestowed the prestigious Jnanpith Award in 2007 for his contriibution to literature, and was awarded the Padma Shri (1998) and Padmavibhoosham (2011). ONV was the second Malayalam poet to win India's highest literary honour and the fifth Jnanpith-awardee from Kerala. He was a member of Kerala Sahithya Akademi from 1982 to 1987, and also served as the chairman of Kerala Kalamandalam from 1996 to 2001.
He won the National Award for Best Lyricist for his work in the 1989 movie "Vaishali" and the Kerala State Film Award 13 times for the movies "Gulmohar," "Radha Madhavam," Manivathoorile Ayiram Sivarathrikal," and "Yagam," among many others.
Some of his popular songs are "Madhurikkum Ormakale" (Kaaranavar), "Shalabamaay" (Kalimannu), "Paattil Ee Paattil" (Pranayam), "Poomakal Vaazhunna" (Kaattu Vannu Vilichappol), "Panineeru peyyum nilaavil" (Prem Poojaari), "Orunarupushpamay" (Meghamlhar), "Raappadi Kezhunuvo", "Kaattile mainaye" (Akashadooth), "Doore Doore" (Nadodi), "Kunjikkiliye Koodevide" (Indrajaalam), "Poovaay virinju" (Adharvam), "Indupushpam" (Vaishali), "Oru Dalam Maathram" (Jaalakam), "Vaathilppazuthilooden" (Idanaazhiyil Oru Kaalocha), "Manjal Prasaadavum", "Neeraaduvaan Nilayil" (Nakhakshathangal) and "Sukhamo devi" (Sukhamo Devi), among many others.
Check full list of ONV songs HERE
Born to ON Krishna Kurup and K Lakshmikutty Amma in 1931 at Chavara in Kollam, Ottaplakkal Nambiyadikkal Velu Kurup was a graduate in economics from SN College, Kollam and a postgraduate in Malayalam literature. ONV Kurup is survived by his wife Sarojini, son Rajeev, daughter Dr Mayadevi and grandchildren.
Many celebrities have expressed grief at ONV's passing. Here are some of their condolence messages:
PMO India
Shri ONV Kurup's demise is a major loss to Malayalam literature. His works were admired widely. May his soul rest in peace: PM@narendramodi
Office of Rahul Gandhi
My condolences on the passing away of noted Malayalam poet Shri ONV Kurup.With his demise Malayalam lit has lost a much loved &admired voice.
Nivin Pauly
ആദരാഞ്ജലികള്‍...
Shashi Tharoor
Saddened to hear of demise of the great poet&man of letters ONV Kurup, who lived in Tvm. A great&gracious man, he will be much missed. RIP
Sindhu Joy
ONV Sir is no more Condolences....
Asif Ali
മലയാളത്തിന്റെ മഹാകവി ഒഎൻവിക്ക് ആദരാഞ്ജലികൾ..
Ranjith Sankar
ആ രാത്രിമാഞ്ഞു പോയി,
ആ രക്തശോഭമാഞ്ഞ്‌..

ആദരാഞ്ജലികൾ..
Vinay Govind
Orikkalum Nilakkaatha Vaakchaarutha..!!!