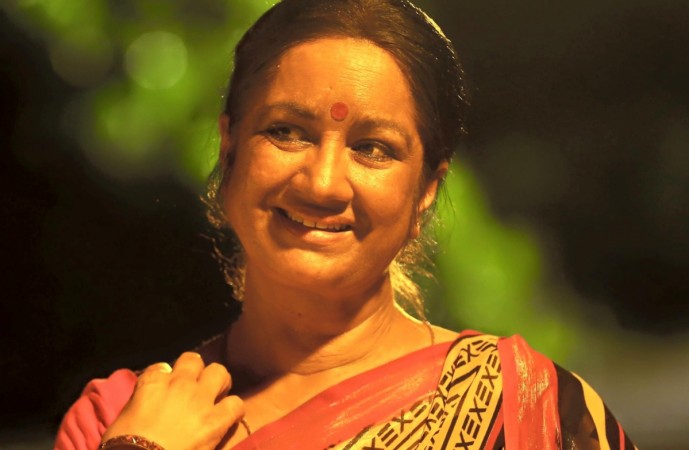 South Indian actress Kalpana Ranjini, who is known for her comedy roles, passed away in Hyderabad on Monday, 25 January. She was 51.
The National award-winning actress was found unconscious in Ebony hotel in the city, where she was shooting for Vamsi Paidipally's upcoming bilingual film "Oopiri", starring Akkineni Nagarjuna and Karthi. She was then taken to Apollo Hospital early on Monday morning and reports suggest that she had suffered a heart attack.
Actress Kalpana's funeral LIVE: Celebs pay homage to late artist in Thrippunithura [PHOTOS]
The mortal remains of the actress will be brought to Kerala by Monday evening and the funeral will take place on Tuesday.
The versatile actress, who began her acting career with MT Vasudevan Nair's "Manju" in 1983, was last seen in the Malayalam film "Charlie" with Dulquer Salmaan. Even though she did a small role, the character Mary was appreciated from movie-goers and critics. Incidently, she was seen committing suicide in the Martin Prakkat directorial.
'Charlie' makers release 'Chithirathira' song as tribute to late actress Kalpana [VIDEO]
Kalpana is the receipient of National Film Award for best supporting actress for her performance in the movie "Thanichala Njan" and has also published her memoir named "Njan Kalpana".
Kalpana is the daughter of theatre artists VP Nair and Vijayalakshmi and is the sister of actresses Kalaranjini and Urvashi. She was married to Malayalam film director Anil Kumar; the couple got divorced in 2012. They also have a 16-year-old daughter Sreemayi.
With IIFA Utsavam taking place in Hyderabad, most of the South Indian actors are in the city. Malayalam celebs Mammootty, Mohanlal, Prithviraj Sukumaran, Suresh Gopi, Amala Paul, Fahadh Faasil, Dulquer Salmaan, Jayaram, Indrajith Sukumaran, Asif Ali, Mamta Mohandas, Suraj Venjaramoodu, Kunchacko Boban, Jayasurya, Innocent, Navya Nair, Kavya Madhavan, Aashiq Abu, Alphonse Puthren, Unni Mukundan, Manju Warrier, Stephen Devassy, Meera Nandan, Aparna Nair, Isha Talwar, Babu Antony, Anupama Parameshwaran, Divya S Menon, Ranjith Sankar and many others have expressed their hearty condolences on the death of the actress.
Check out celebrity condolences below:
Prithviraj Sukumaran
RIP Kalpana Chechi! A fine actor and a finer human being! We flew together in to Hyderabad yesterday afternoon..and she was in such high spirits as always! You will be missed forever!!!
ഈ വാർത്ത വിശ്വസിക്കാൻ ഇപ്പോഴും എനിക്കാവുന്നില്ല. കൽപ്പനചേച്ചി ഒരു സഹപ്രവർത്തക മാത്രമായിരുന്നില്ല, എന്റെ സ്വന്തം ചേച്ചി ത...

Posted by Dileep on Monday, January 25, 2016
Asif Ali
RIP Kalpana Chechi, May lord give strength to her family
Suresh Gopi
Hearty Condolence
Amala Paul
Distressed to know the news about Kalpana mam. Had the good fortune of meeting her over a flight journey and the conversation with her about life and sensibilities has been memorable. What an amazing soul !! RIP #Kalpana Chechi.You made us laugh, cry and left a void which will never be replaced. Rest In Peace.
Dulquer Salmaan
Devastated to hear about Kalpana chechi. Ive known her since I was a toddler and she would always tell me stories about my childhood. At a loss for words. When we shot the boat scene where Charlie kisses Mary, I remember her being so happy. She kept saying I would never give her kisses as a child. ചെറുപ്പത്തിൽ ചോദിച്ചപ്പോൾ ഞാൻ തന്നില്ല എന്ന് പറഞ്ഞ ഉമ്മക്ക്‌ പകരം എന്റെ ഒരായിരം ഉമ്മ
Unni Mukundan
Extremely saddened by the news of Kalpana chechi's sudden demise.... I had just met her day before yesterday at guruvayoor and she was all smiles healthy and spoke her heart out to a huge audience... this 28th I was supposed to start my shoot with her ... discussed so many things and she was so happy and healthy ... terribly shattered.... sometimes gods ways are way too mysterious for our minds.... I'm happy that I could work with you once and happy that I could know you as a person and will always be a fan of your work.... I still remember how you made the entire guruvayoor laugh their hearts out with your gentle and humble talk ... short of words... just praying that your soul rests in peace !!! You have been a true artist by all means... surely my last memory of you is seeing you spread happiness among others.... sleep well in peace.
Sandra Thomas
Still feeling the shock from the news of the sudden demise of our dearest kalpana chechi . Hard to imagine that the kalpana chechi who was on our flight to Hyderabad laughing and joking with us is no more .. Never realize that her good bye kiss and warm hug was the last we could have from her . Deeply saddened, I also convey my condolences to all her family and friends during this hour of grief .. Rest in peace kalpana chechi . Your life was a celebration as you touched the lives of many.
We were together in the flight to hyd yesterday . She was laughing and playing with us . We hugged and said bye to her when she went to join her shoot . And it's shocking to hear she is no more . Can't believe .ആദരാഞ്ജലികള്‍..
Tamannaah Bhatia
Kalpana mam was one of the most kind hearted ppl I have ever met ,hard to believe that she left us so soon ,RIP
Radikaa Sarathkumar ‏
I am so shocked to hear about actress Kalpana 's sudden demise in Hyd.so sudden ,sympathies to sister Oorvasi &family.Great loss of talent.
Deeply saddened and shocked to hear the sudden demise of one of my fav actress Kalpana Chechi!what an actress!huge loss indeed!RIP Chechi!
Khushbu Sundar
Deepest condolences to #Oorvasi and family at the sudden demise of #Kalpanachechi ,a superb actor n a national award winner..#RIP..
Sangeeth Sivan
Absolutely shocked 2 know that #kalpana is no more.. Leaves behind a great many memorable films& roles that only she could do justice 2 #RIP
Resul Pookutty ‏
RIP #Kalpana You made us laugh, cry and you left us with a shock. You left a void will never be http://replaced.Rest In Peace.
Gauthami Nair ‏
Deeply shocked to hear about Kalpana Chechi. She's made us laugh and she's made us cry. What a void is left. RIP.
Anjali Menon
Shocked and dismayed to hear of her demise. Always the one to surprise us, with her performances, words and her wit - onscreen & offscreen.
A consummate artiste - Kalpana. Rest in peace Chechi.
Indrajith Sukumaran
RIP Kalpana chechi! You will be missed..
Pratap Pothen
I worked with Kalpana only once ...... I was directing a couple of short stories for Jeevan TV ...though it never came out I was able to bond with Kalpana who I found an extremely talented actress ...she asked me what my star was and I told her hastham Kani RASI ....she didn't seem to be happy as she told me then that it was going to be tough for the next couple of years ..this was in the late 90's ....I met her a couple of times at film functions after that .....the last time I met her was in kochi during the last Asianet awards I was called to give an award and was making my way to the stage when I heard a frantic call of Chettaaa looking back I saw Kalpana running towards me ....then smiling she said Chettaa u r hastham aren't you ...yes ...I replied thinking she was going to predict something bad ...but instead she said that she had looked at my horoscope and predicted a wonderful time for me the next few years ...I smiled ...no Chettaa she continued ...believe me you are going to go places ...yeah I said I am going to the stage to give an award ...she said believe me Chettaa it's going to be true ...I said I hope so ...you wait and see Chettaa it's going to be true ...I smiled thanked her and made my way to the stage ...that was the last time I saw her ...I will miss you Kalpana ...and may you find eternal peace ...your talent will a part of the cosmos and like a bright star shine on like u did in life ....my deepest condolences to your family ...you will live on in all the hearts of people who loved your talent ...
ഡോല്‍ഫിന്‍സിന്‍റെ ക്ലൈമാക്സ് ഷൂട്ട്. സെക്രട്ടറിയേറ്റിന് മുന്നില്‍ അര്‍ദ്ധരാത്രി കഴിഞ്ഞിരിക്കുന്നു.തകര്‍ത്ത് പെയ്യുന്ന മഴ...

Posted by Anoop Menon on Tuesday, January 26, 2016
കല്പന ചേച്ചിയുടെ ചിരിക്കുന്ന മുഖം മാത്രമാണ് ഇപ്പോഴും മനസ്സിൽ. കഴിഞ്ഞ ദിവസം ഞങ്ങൾ ഒരുമിച്ചായിരുന്നു ഹൈദരബാദിലേക്ക് യാത്ര ...

Posted by Neeraj Madhav on Monday, January 25, 2016
Fahadh Faasil
ആദരാഞ്ജലികള്‍..
ആരോടും പരിഭവമില്ലാതെ നൊടിയിടയിൽ കടലിൽ കാണാതായ ക്യൂൻ മേരിയെ പോലെ ആകസ്മികമായി മരണം അവരെ കവർന്നെടുത്തിരിയ്ക്കുന്നു. ആദരാഞ്ജലികൾ..

Posted by Suraj Venjaramoodu on Sunday, January 24, 2016
Aashiq Abu
ആദരാഞ്ജലികൾ
Isha Talwar
I had the pleasure of working with Kalpana Chechi!! She was absolutely amazing,jovial,super-friendly and an amazing performer.She said the sweetest and most encouraging things to me on the sets of Bangalore days :) May her soul rest in peace ! Thank you Chechi for passing on your amazing energy !!
Mamtha Mohandas
One the wake of the second day of the first IIFA Utsavam where the entire south film industry came together, I was deeply grieved to hear about Kalpana chechis demise. Shocking .. One moment ur up n running n the very next it's all over. Such is LIFE. The very little time I had spent with her was a flight between dubai and calicut. She was such a fun and energetic person to listen to. Had so many hilarious incidents to narrate. Will miss her greatly and so will the industry. It's saddening to understand that we are losing people who have lived in our hearts thru their work and amazing personalities for so many years. RIP chechi!
Pearle Maaney
Good bye to one of the most finest and loved actress of Indian Cinema . You will be missed. RIP Kalpana chechi...
Manju Warrier
പ്രിയപ്പെട്ട കൽപ്പന ചേച്ചിക്ക് ആദരാഞ്ജലി
Asha sharath
എന്റെ കൽപനചേച്ചിക്ക് ആദരാഞ്ജലികൾ...
Stephen Devassy
This is such a shocking news this morning....May her soul rest in peace...
Chandini Sreedharan
Wish this tragic news weren't true! Though I haven't known you for long... You have had an influence on me... Your smile has brought happiness to many... And you will live on through the many amazing performances you've given!! We will greatly miss you ‪#‎Kalpana‬ Mam!! RIP ❤
Navya Nair.
Marakkan pattunnilla nammal pangitta nimishangal... Santhosham mathram niranja chechiyodothulla nimishangal ... Nithya santhi .... Miss u...
Sujatha Mohan
Heartfelt condolences....RIP
Ranjini Haridas
I don't even know what to say ...shocked and speechless ..Kalpana chechi you will be missed so so much..May your soul rest in peace.
Lakshmi Gopalaswamy
Shocked by the demise of dear Kalpana Chechi. Irreplaceable.prayers for her family and her soul
ദൈവ 'കൽപ്പന 'പോലെ ...

Posted by Jayasurya on Sunday, January 24, 2016
Meera Nandan
Can't believe this at all!! A wonderful fun loving person n a superb human being.... U will be missed Kalpana Chechi..... May her soul rest in peace.. May god give strength to her family to bear this loss!!
Ranjith Sankar
Met kalpana chechi first and last time yesterday in flight. Life!!!!!!! ആദരാഞ്ജലികൾ...
Alphonse Puthren
Kalpana Chechi ... We'll miss u and ur movies .....
Vishnu G Raghav
One of the finest humanbeing i ve known.. one of those very few ppl who calls me by my pet name, who was more than happy for me being in the industry, who never missed to give a hug and a kiss ever since my childhood to the very last time v met.. My whole family wil miss u aunty..RIP
Salim Ahamed
Really shocking news..my heartfelt condolences..
നമ്മെ ഒരുപാട് ചിരിപ്പിച്ച നിത്യ ഹരിത ഹാസ്യ താരം. കല്പന ചേച്ചിക്ക് ഒരിക്കലും മരണം ഇല്ല... എന്നും ഞങ്ങളുടെ മനസിൽ ഉണ്ടാവും..ആദരാഞ്ജലികൾ :(

Posted by Kunchacko Boban on Sunday, January 24, 2016
Divya. S. Menon
RIP Kalpana chechi A big loss to film industry. You will be always be remembered in our hearts.
She left us.we lost a great artist and I lost someone who was very close to my heart.I have no words.you will remain in my heart forever..!!

Posted by Aparna Nair on Sunday, January 24, 2016
Anupama Parameshwaran
Oh My God.... This is really shocking.... RIP great actress Kalpana Mam.
Lakshmi Menon - Vlogger
Heartbreaking News :(((i don't know what else to say :(((( you will be dearly missed chechi :((
Vivek Ranjit
Still not able to believe it. Met her just yesterday and spoke to her when we were all on the same flight to Hyderabad and she seemed totally fine, and had also said that we should work together sometime soon.. But this is shattering news!